Most of five months after Oliver died, we have a new cat. Here she is: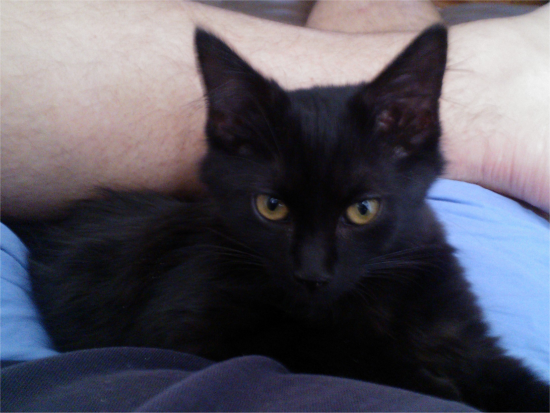 She is 15 weeks old. She doesn't have a name yet.
She is mostly Aaron's cat. Aaron came home from our friend's who was fostering her saying her name was Mary Ann.
Meh.
Nobody likes Mary Ann but Aaron. I think we've convinced him that that's a very people name, and not so much a cat name.
I absolutely fell in love with Harper over dinner tonight, on account of it's forceful, feminine, iconic, and Southern. But I pushed too hard for it, and I think Aaron will reject it just on that basis. If Daddy wants Harper, then it must suck. Sigh.
Other frontrunners include Isabel, Agatha, Felicia, and Mackenzie. I'd be OK with any of those. Aaron has a little too much affection for Esmerelda, which is pretty but unwieldy. I'm hoping his mother, who enjoys significantly more influence than I do right now, successfully squashes that.
So I guess I'll tell you what the cat's named sometime this week. In the meantime, she is beautiful and very lovey. Glad to have her.
I'm amazed and appalled at what a cat person I am.
You might also like: