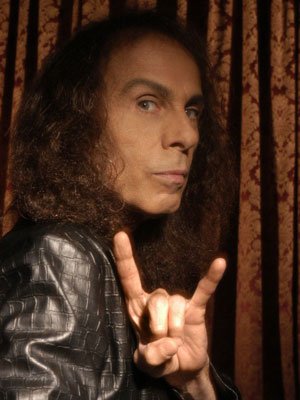 Ladies and gentlemen, we've lost rock 'n' roll royalty.  Ronnie James Dio succumbed to his stomach cancer early Sunday morning.
He worked as a professional musician for an incredible 53 years.  He started making his ultimate mark—that of a heavy metal giant—fronting Rainbow in 1975, alternately growling and belting out staples like "Man on the Silver Mountain" and "Long Live Rock 'n' Roll."  He was integral to Heaven and Hell, one of Black Sabbath's finest records, and listed the title cut as his single favorite composition.  His band Dio went strong for 28 years, and its debut album, Holy Diver, regularly makes lists of the best hard rock/heavy metal records ever.  Heaven and Hell, a reunion of the RJD-era Black Sabbath, released The Devil You Know just last year.
He cared.  He was responsible for Hear 'n' Aid, the heavy metal response to USA for Africa, and co-wrote its song "Stars."  He and his wife Wendy were heavily involved with the charity Children of the Night, which rescues children from prostitution.  He was a highly vocal advocate for staying drug-free.
As for what he meant to me personally, well, there Ronnie James Dio always was, for as long as I've been a fan of popular music.  When I was a young teenager, his music was some of the heaviest I was really into.  He had that whole scary/evil thing going too, singing about witches and the debbil and stuff.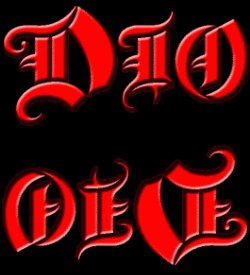 Of course, he popularized the "heavy metal horns," which more than one well-intentioned (I guess?) road show tried to convince me was a symbol of his deep, unyielding satanism.  One or another of those guys also showed us that the Dio logo spelled "devil" upside down, and yeah, it pretty much does.  It's not that hard to see.  Being young and (then) still believing in literal demons, this creeped me out a bit.
You know what, though?  Even then, it was hard for me to take it all too seriously whenever I'd see him in interviews and such.  He was such a warm and well-spoken guy—like a favorite uncle, almost—who just, clearly, understood what made effective theater.
I'll remember Ronnie James Dio as a hard-working musician, an extraordinarily talented songwriter and showman, and one of heavy metal's defining vocalists.  He is a pillar of the genre, and he will be deeply missed.  RIP.
You might also like: