Just kidding.
I haven't been in 25 years or so, but I'm still sure I've done it enough to last me the rest of my life.
Last week I read a good article about the decline of NASCAR. Mind, it's still big, but it's popped a bit.  For one thing, the economy has hit the fan base hard.  (A seat at Bristol starts at $93?  Seriously?)  For another, it's awfully sterile anymore.  (Don't get me started on the restrictor plate races.)
I'm watching a little more Sprint Cup this year than usual.  Probably that the IndyCar season started with four consecutive road course and street races is a factor.  I'm starving for an oval race.  I'm going to watch the Winston 500, or whatever it's called now, today, and I'm sure I'll enjoy it.
But part of me still really misses the way it used to be.  I grew up just half an hour from Talladega, and Dad took me several times.  Reminisced about that before.  You know, it might as well be spec racing now (which is easily the thing I like least about the current IndyCar league as well).  But the cars really did used to be modified stock cars.  I miss these days: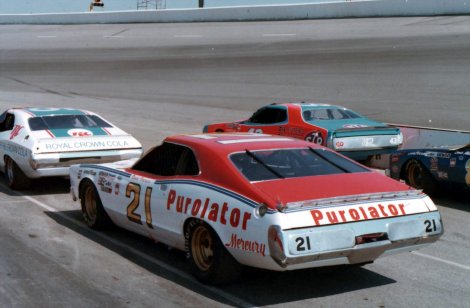 That's a great old photo by Ted Van Pelt, with David Pearson's Wood Brothers Mercury Montego in the foreground.  Over his roof is one of Richard Petty's Dodges—a Charger, in this case.  That's a Gran Torino, as in Ford, in front, but I don't know whose.  I'm going to guess this is 1974 or thereabouts, so just a few years before I was old enough to be paying real attention, but it felt like this to me through the early '80s.
Broadcast time approaches.  Boogity boogity boogity…
You might also like: