I hereby declare the era of the ridiculous hamburger as satirical commentary on American excess and consumerism over.
Of course, fast food places have never been strongholds of dietary prudence.  Burgers like the Whopper, the Quarter Pounder, and the Wendy's Triple with Cheese have been around for decades.  Then Hardee's came along with the Thickburger, and there are Double variants of some of the aforementioned standbys.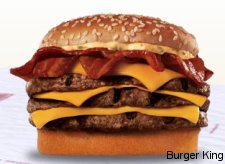 Some of the funnier ones to me are the new bacon burgers.  Burger King has the Stacker, and Wendy's has the Baconator.  There may be others.  Abandoning even a limp pretense of balanced nutrition, there is nothing on them but beef, bacon, cheese, and oil-based sauce.  Here you go.  Bon appétit, fat ass.
Then I suppose there's the 20-oz. Chee'burger, Chee'burger offering, but what's past that?  Aye, what else indeed!
When you're ready to trump the turkeys and take on the eagles, head on over to Denny's Beer Barrel Pub in Clearfield, Pennsylvania, where they'll lay Ye Olde 96er (as in ounces) on you for a mere $35.95: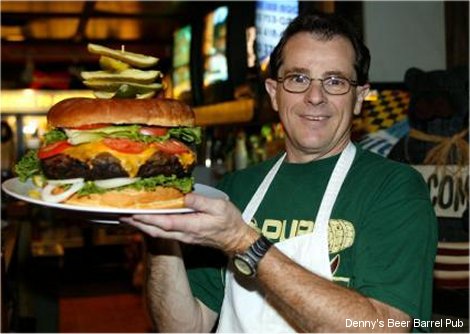 You have three hours to finish it, and if you do, great things happen.  It stood unconquered for a long time, until a 19-year-old, 100-lb. drink of water named Kate Stelnick polished it off in 2:54.  She was awarded a certificate, prizes, and (of course) got her burger comped.
Thus began the arms race, as this establishment and that introduced even bigger burgers.  I dare say Denny's Beer Barrel Pub has recaptured the top spot, however, with the "Beer Barrel 'Main Event' Charity Burger":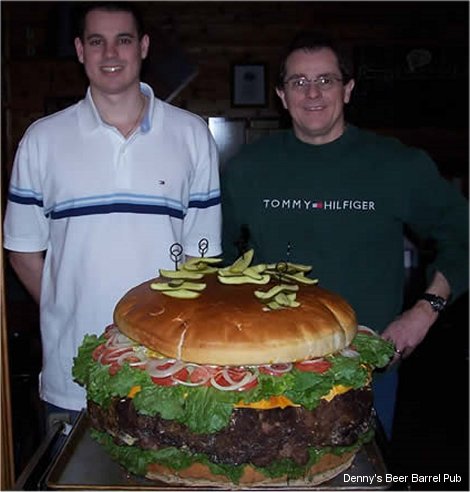 That monster features 100 pounds of beef and will set you back $379.95.
When a $36 6-pounder becomes modest, I'd say whatever crass wit was once available in this vein has been exhausted.
Pause for a moment and love America with me.
You might also like: