Wednesday is garbage night in our neighborhood.  One of our two cans is outside.  When I absently reached for it tonight, I put my hand through a tangly spider web, and pulled it back quickly: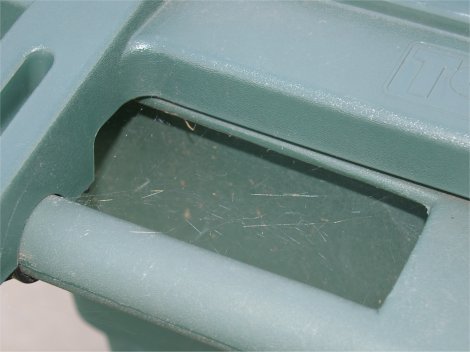 Is that…?  Yup, looks like it could be.  Better investigate further.  Hmmm.  Don't see anything on the outside of the can.  Perhaps under the lid?  Oh, my goodness.  Hello, my lovely: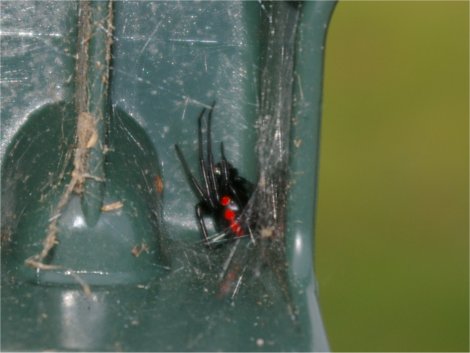 Yes, folks, it's one of the baddest girls in all of arachnia:  the black widow.  This one is young, and has reached adult size, but has not lost all of her juvenile coloration.  See the broken red stripe?  That's actually on the dorsal side of her body, believe it or not.  Black widows don't develop the familiar ventral red hourglass on an otherwise shiny black body (as exclusive coloration) until full adulthood.  Until then, she can be quite gaily colored, actually:  swirls and spots of blue, red, and even yellow.  (She can still hurt you even then, so be careful.)
Captured:
Her ventral hourglass is a textbook example.  Not all of them have it, though most do.  If you see a nearly spherical body and those long front legs, you've got a widow whether she has an hourglass or not, so behave accordingly.
If she settles down and spins a web toward the bottom of this tennis ball can, I may keep her in the garage for a while.  If she stays poised near the top like this, I'll release her.  I'm not attempting to feed and water an eternally-lookin'-like-she's-'bout-to-pounce venomous animal.
Dig:  a black widow bite is a medical emergency.  Do not try to tough it out.  If you think you have been bitten by a black widow, go to the hospital.  This is particularly important for young children, senior citizens, and anyone who is already ill.  Though not likely to threaten the life of a healthy person, the neurotoxic venom produces extremely painful involuntary muscle contractions.  At the ER, you can get powerful muscle relaxants, as well as narcotics for pain.
Black widows are common throughout nearly all of the United States, and they like woodpiles and out-of-the-way corners (like garbage can lids!).  They spin tangly, haphazard webs.  They're not aggressive, but will bite if they feel threatened.  Don't reach into such places without thorough investigation.
You might also like: