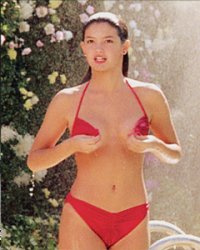 No, not the best nudity. That's Phoebe Cates coming out of the swimming pool in Fast Times at Ridgemont High, and if you have a different answer, you're wrong. Consider yourself enlightened.
The sexiest film character of the 1980s is Madeleine Stowe's Veronica Briskow in Worth Winning.
Mark Harmon plays protagonist Taylor Worth. He's handsome, successful, and an asshole womanizer. His buddy bets him he can't secure three videotaped proposal acceptances from three different women of the buddy's choosing in three months. Hilarities ensue.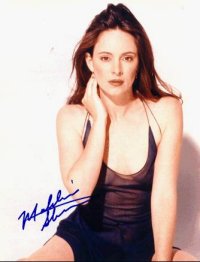 He ends up genuinely falling for Stowe's Briskow, a concert pianist and seemingly the least likely possibility for genuine love at the outset. She's artistic, witty, crass, hypnotic, assertive, sarcastic, and a total challenge—exactly the sort of woman he's never dealt with. He grows, he gets busted, he grows some more, she forgives, and they live happily ever after.
Madeleine Stowe's babealicious anyway, but when she plays the kind of woman I like in real life, she's irresistible.
You might also like: