Jenny, Nathan, and I started our day at Colonial Williamsburg with a carriage ride.  (We're happier than we look.)
Our coachman told us that our carriage was donated by an Austrian family in 2001, and that its cost new was $350,000.
Cough.  I took a good look around the thing and decided I might need to see about the horse-drawn carriage business.
We had lunch at the King's Arms Tavern.  Jenny and I each had a shepherd's pie situation, mine accompanied with a delightful India pale ale.  Nathan had…chicken fingers.  We're going for seafood in a little while, and I've been trying to plant a branching-out sort of seed all day long with him.  My hope is that we have some sort of chicken-shrimp combo available this evening.
We spent some time at the silversmith, and I was hoping for some watchmaking as the sign indicated, but no luck.  Nevertheless, the process was fascinating, and the finished pieces were lovely.
After the candy and toy stores, and meeting some of Jenny's coworkers at Williams-Sonoma, we finished the afternoon with a tour through the Governor's House.  I remember that tour being one of our favorite parts when Lea and I visited, and it was a good time today as well.  Here is Nathan with a few of the swords displayed in the foyer: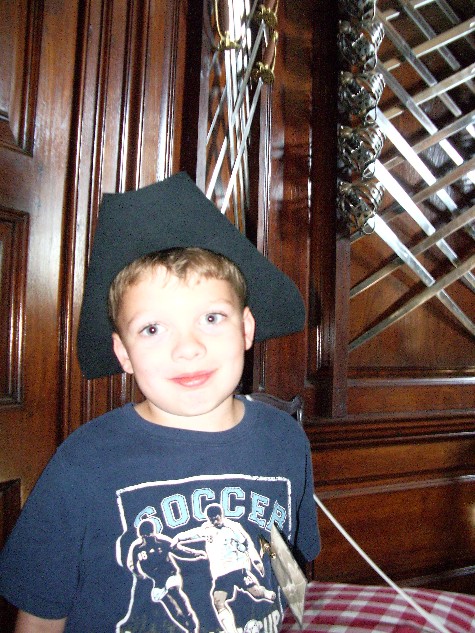 Our guide was a kindly fellow named John, and he did a marvelous job keeping the tour interesting.  On our first trip, I remember being impressed with how convincingly these people remain in character whilst going over the same things every day, and that impression was reinforced this afternoon.
Headed out for dinner in a little while.  It's a good trip, but we both miss Lea and Aaron.  (I used to travel quite a bit for work and started missing Lea badly about day four.  That still happens, but now it only takes about two days with the boys.  I'm a total baby about being away.)  Also, as much as we're enjoying staying with Jenny, I think we're both looking forward to having an opportunity to miss her dachshunds.
Jamestown is tomorrow.  I believe we might also avail ourselves of the time-honored colonial activity of miniature golf.
You might also like: