Mom was bright. She never finished college, but she was one of the most learned and well-read people I've ever known. She was a knew-a-whole-lot-about-a-few-things and knew-a-little-something-about-everything sort of person.
I went to visit her on a break from college one weekend, and she asked me what I'd been studying recently. I told her, and she deeply surprised me when she engaged me in a lengthy and informed conversation on the ideas of Marshall McLuhan and Kenneth Burke.
She was also absolutely convinced that mayonnaise must not undergo the slightest heating, lest it turn so deadly poisonous that the mere act of smelling it would cause violent and ultimately fatal convulsions. She handled old potato salad with the same care she would cannisters of sarin. It would not have surprised her in the least to read that the ancient Mayans tipped their darts with hot mayonnaise.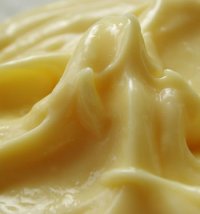 I'm hamming a bit, but not much. Of course, mayonnaise is perishable, and you probably shouldn't leave it out for a couple of days and then eat it (because it would taste unpleasant, not because it would be particularly bad for you even then), but that's not what I mean. I mean, she thought putting mayonnaise on a hot sandwich, for example, was tantamount to playing Russian roulette. Of course I couldn't ever have mayonnaise on anything I took to school for lunch, because of the potentially deadly transformation it would undergo sitting, seemingly innocuously, in my locker.
I either never knew or don't remember whether she knew someone who got sick, or her mother told her this, or what, but it was clear that the belief was absolutely unshakable, so I never tried to convince her otherwise.
I wonder whether I have any of those beliefs? I wonder whether I'd even realize it if I did?
Thanks to justhungry.com for the image.
You might also like: