I'm going to watch the Indianapolis 500 in a bit. It will be the first one I've seen in 20 years or so.
I was never much of an open-wheel guy, but I was a pretty big NASCAR fan until about age 12 or 13. It was hard not to be, growing up 20 minutes from Talladega (then called AIMS–the Alabama International Motor Speedway). Dad and I went to the Winston 500 and Talladega 500 several times (and I know these races are now probably called the Federal Express Gorton's K-Y 500 or somesuch, but I'm a traditionalist).
We got over to Atlanta a time or two as well. I always preferred Atlanta to Talladega because it was large enough for decent speeds, but small enough to see everything. Talladega is so godawful huge that from the grandstands, the cars are just specks on the back stretch. From the infield, they're slightly larger specks just about everywhere.
I lost a lot of interest as I entered adolescence, and I quit paying attention altogether when Neil Bonnett was killed. I'm thoroughly bored with what NASCAR has become today, though Nathan has some Cars-generated enthusiasm for seeing a race in person one day. So we may go sometime.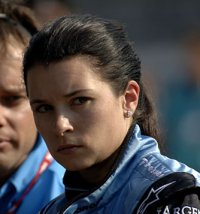 So why am I watching the Indy 500 today? Well, I'm excited about Danica Patrick's chances and would like to see her win. Even someone as vastly ignorant as I am about current pop culture knows who she is. It's tough for a guy to miss a woman who can model lingerie, then go drive a race car at 224 mph, and be a top-tier participant in both. More importantly, she consistently and firmly defines herself as a driver first and a woman second, discounting the novelty of her sex the media continuously tries to inject into her coverage. It reminds me of Tiger Woods similarly waving off his race. I respect that.
I also love that my sons haven't "noticed" that the driver Dad's pulling for is a woman. That is genuine progress.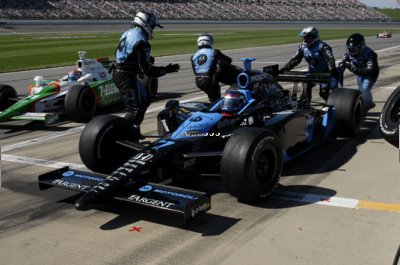 Pace laps are underway. Go Danica!
Thanks to danicapatrick.com for the images.
You might also like: