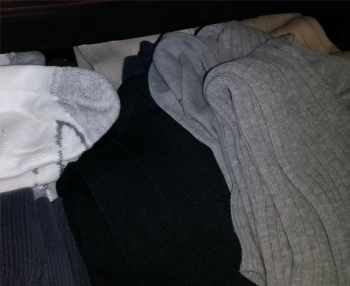 I have made this point at some length on Facebook, and those discussions, coupled with my recent underwear epiphanies, lead me to this post on socks.
Don't wear bad ones. Ever.
Every day of your life, the socks you wear should be in good condition. They should fit you comfortably, and they should wear well all day. Your socks should make you happy. If your socks do not make you happy, you should shop until you find some that do.
This is not a review post, but a couple of quick notes:  I have had consistent good luck with Lands' End and Dickies socks. Dockers socks fit well and are comfortable, but in my experience do not last. Buyer beware.
It is difficult to have a good day with bad socks. But with good socks, it is a pleasure to pull and situate them upon your clean feet first thing in the morning whilst imagining all you shall accomplish that day.
Good socks don't make a good life.
But it's harder to have one without them.
Similar Posts: