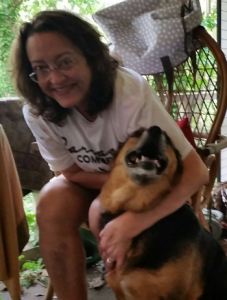 I obliged such a request from Suzie Bennett more than once.
I'd work a long morning—until 1, say. Then I'd grab lunch for us both and go to her house in urban south Huntsville, but also somehow magically in the middle of the woods, for three or four hours.
You know, now that I think about it, she did have kind of a Mae West vibe she could turn on when she wanted to. But she certainly didn't mean the title the way it might sound to someone just reading it—someone who didn't hear it leave her lips. She would have never said that to me with questionable intent. She loved her husband, and she knew how much I loved my wife. She would never suggest anything untoward.
She meant you sit, and I'll sit, and we'll visit. We'll eat, and then we'll enjoy the abundant fauna in my yard (which became immediately scarce when there was a hawk overhead). We'll enjoy each others' shared relative pitch, harmonize effortlessly, and talk about musical things we should do together. We'll laugh and cry about human foibles.
We'll be friends.
Suzie just died. She wasn't old enough (sheesh, how old is anymore?). God be with all of her family and friends. She was one of the sweetest, gentlest people I've ever known.
And oh, how she would cackle when she'd hear me describe her that way. "You have no idea, Bo!" she'd laugh.
Well, she was right. I didn't. There were always things going on with Suzie that I didn't know about. She had boundaries. I respected them. It was just such a blessing to have her in my life to the degree that I did.
She and her husband had just bought a new house. I had already told her I was looking forward to breaking in her new backyard.
The last time I went to see Suzie at her house, she asked me to stop at Cafe Berlin. She gave me a detailed list, which I reproduced faithfully on the telephone to the restaurant. When I got there, I reached for my wallet, and the young lady waved me off. "Oh, no charge for Suzie. Enjoy!"
You know? One of those people? What did she do for the Cafe Berlin people? Who knows? But, something. Something substantial. It was a $40 bag of stuff, probably.
It was a phenomenal meal all around, and I particularly remember that I rediscovered Brussels sprouts that afternoon.
Most recently we had talked about her visiting my church. I was so looking forward to that. Instead I guess I'll settle for there being one more very new, very bright star up there tonight.
I love you, sweet Suzie. Thank you for sharing your light with me.
Similar Posts: