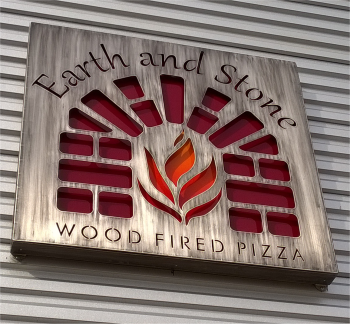 "Now we're not open yet, so you can't blog about us yet!" Stan laughed, shaking my hand.
Thanks to Tommy being in the know, he, Carol, Trent, and I got to eat lunch at Earth and Stone Wood Fired Pizza's nascent restaurant today, before it opens.
(And Stan is fine with me talking about the place. He meant he didn't want a full-up review. As if I'm going to have anything bad to say about Earth and Stone pizzas anyway.)
The new place shares a building with Yellowhammer Brewing, as part of a development called Campus No. 805, on Clinton Avenue in Huntsville. I didn't take any photos of the interior yet because things could yet change, but it's a cool, open space with garage doors between Earth and Stone and Yellowhammer. The new wood pizza ovens dominate the view behind the counter. Looks like a fantastic place to unwind.
(Only about six minutes from work too. Yipes.)
They are serving the same pizzas we've all enjoyed for years off the Earth and Stone truck, but in both 10″ and 14″ sizes now. They have also expanded the menu to include sandwiches, calzones, and salads. Our lunches were outstanding, and it was fun to share our thoughts as they work to get things just right.
I'm really going to enjoy having Earth and Stone pizza this readily available, and I can see leaving the place saying things like "OK, if I don't eat until the weekend, and I take 20,000 steps every day…"
Seriously, Stan and Tina are very good at what they do. This is going to be a high-end experience. Watch for the grand opening in the next week or two.
Similar Posts: