This is my earliest picture at Uncle Bill's lake house, I think. Welcome to July 1972: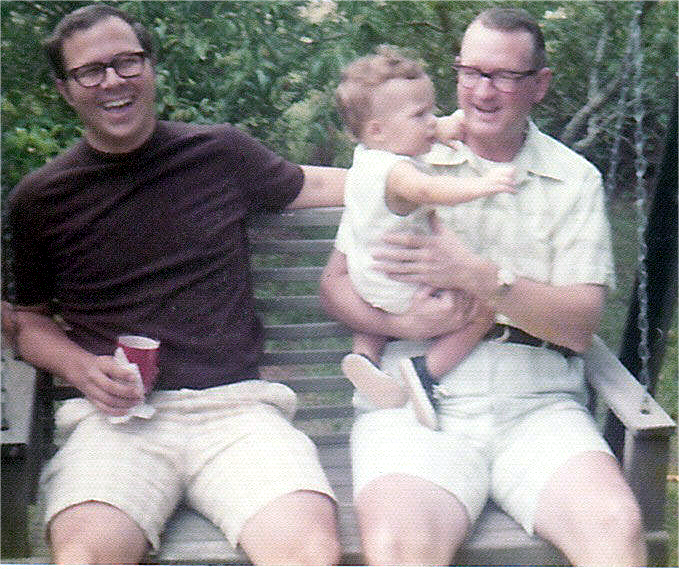 That would make me 15 months old. Dad, to my right, is 28. (Man, he was in deep hairline trouble way earlier than I was. Count your blessings, Bo.) Uncle Bill (my maternal grandmother's sister's husband), 48, is holding me. (Looks kind of like Woody Hayes, doesn't he?)
I don't remember this trip. I remember things that happened later this year, though. I've learned that I remember significantly earlier into my childhood than most people do.
Both Dad and Uncle Bill are obviously having a great time, and that matches my memories of time spent at that house on Logan Martin Lake. Perhaps I've romanticized it just a bit in my memory, but thinking of going to Dottie and Bill's feels so warm and loving (and the detail I can recall from those visits is staggering). I don't know that our boys have had an analog. I hope we've made it up to them in other ways.
I also look at the photo and can't believe my parents' marriage would be in significant trouble in another eight years, and would end in less than ten.
I hope—actually I really, deeply believe—that's something from which I can deliver our children. "Dad, what's it like to have a stepmother?" Nathan asked me once. "Don't worry about it buddy, because you'll never have one," I answered without hesitation.
I try not to beat my folks up about it too much. I believe they did the best they could. Still, I see a photo like this and I can't help some part of me saying "Guys? Really?"
Go, right now, and ask your spouse what you can do for him/her.
And have a good weekend.
Similar Posts: