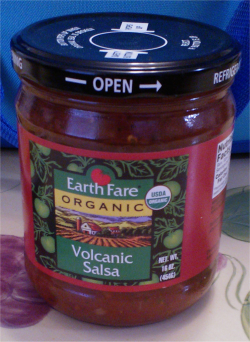 "Volcanic" is a rather enticing adjective for a hot sauce and pepper fanatic, don't you think?
I went to Earth Fare this week to see if kefir was any cheaper there than at Publix (it is, but only marginally). On the way out, this little pint of salsa said "buy me! buy me!" Hmm. It was $3.79 out the door. Let's see what we've got.
Ingredients ("organic" precedes every entry except salt on the actual label): Diced tomatoes, tomato puree, green bell peppers, grain vinegar, onions, apple cider vinegar, salt, crushed red pepper, garlic, cilantro, habanero pepper, oregano, and basil.
Sounds like it tastes good for sure, but with salt ahead of any hot peppers, I had my doubts about how "volcanic" it would be.
I tried a goodly amount straight and with yellow tortilla chips, and indeed, it's quite good. There's a uniformity about mainstream ready-to-eat salsa that is eclipsed by this Earth Fare offering. The vegetables taste markedly fresher, and the spice profile differs significantly from something like Pace or Old El Paso. It's more complex, and there's a strong garlic note that I like quite a bit. It's also a lot more visually interesting, with spices and vegetables popping at you. It might be a little darker than usual offerings.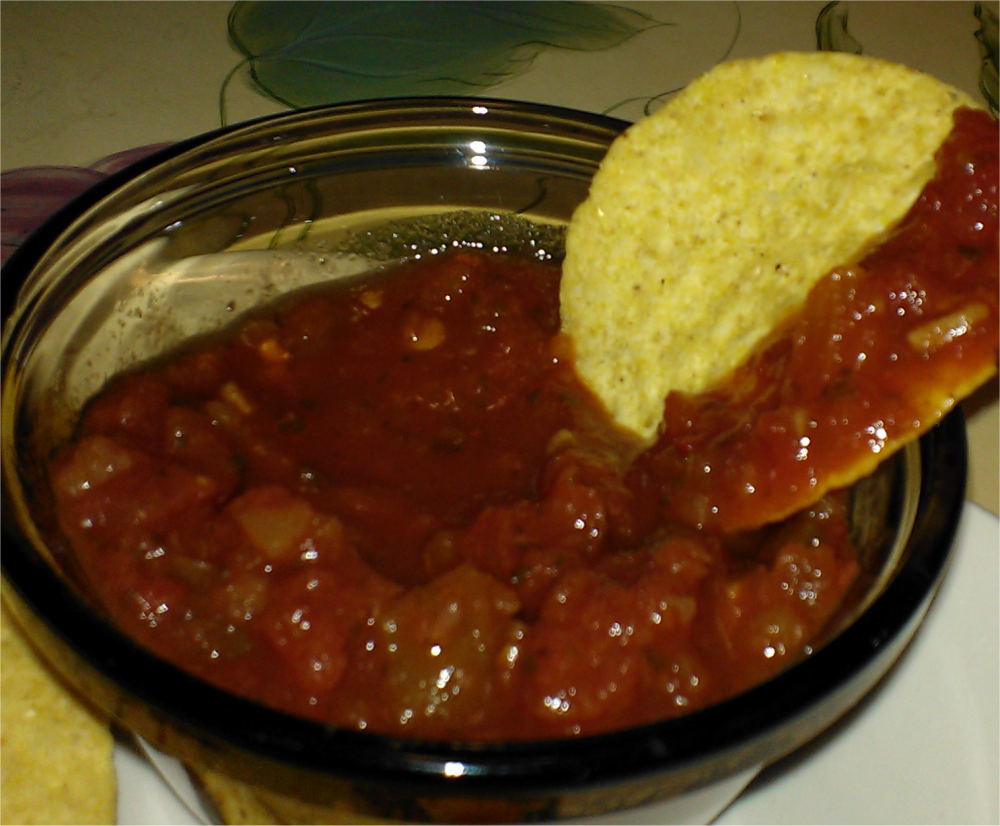 So how's the heat? Turns out this is actually pretty formidable for something you can buy in a jar at a grocery store. There's a little hint of it in the smell. The heat bites you just a little bit on the front end, and then the cumulative property of habanero kicks in shortly after you swallow. Your fourth bite is going to be much hotter than your first. After you stop, it's a pleasant smolder that takes about ten minutes to get all the way back to zero. I'd put the heat in the neighborhood of a hotter jalapeno. No problem for a chilehead, but if Taco Bell Fire sauce scorches you, you'll want to stay away from this.
I doubt the jar lasts the day. Good stuff, Earth Fare.
8/10