We know.  We're remiss.
Please understand that we're not being gratuitously rude.  We enjoyed the food, fellowship, and/or cards in your house.  We would like to reciprocate.  We will, eventually.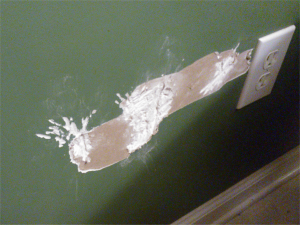 Most of the problem right now is that we've been raising Nathan's puppy in the kitchen, and there are three to five examples of isolated but still rather substantial property damage as a result.  These languish because she's still not quite there, so there's no point in fixing them.  When that bitch darling little fuzzball finally moves outside, I will require most of a weekend to restore the area.
And once I do, the hilarities shall once again ensue.
We are, though, for a little while longer, constrained by a canine enfant terrible.
Thank you for having us.  Thank you for understanding.
Soon.
Similar Posts: