Madison Square Mall got the nod for lunch today, mostly because I'd had a super morning with my pedometer and was looking to ice my 10,000 steps early.  For lunch, I had a gyro plate of reasonable quality for lunch in the nearly totally empty food court: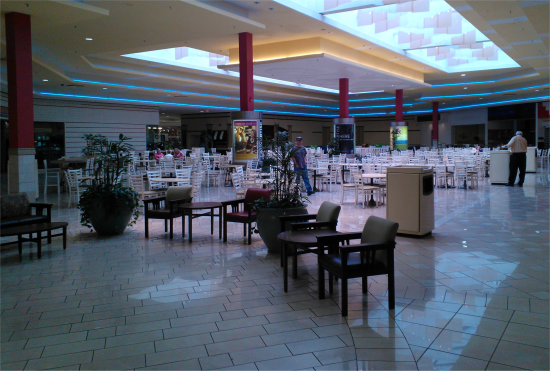 While I was eating it, I was approached by a polite young woman who asked me to donate blood downstairs.  More on that in tomorrow's post.
I took a walk, and decided to start counting vacancies.  I got to 32, give or take.
That's right, ladies and gentlemen:  Madison Square Mall is a quarter empty.  On average, every fourth place is vacant.  It's surreal.  Have a look (click the photo below for the Flickr album):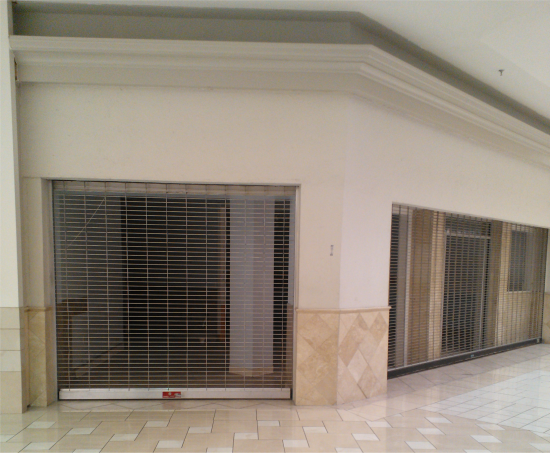 When I took a brisk walk through both levels today, I'd estimate there were 50 other people out in the open space of the mall with me.  And understand, I mean at any point.  I mean you isolate a single moment I'm walking through or standing in the mall, and there are 50 other people doing the same thing on both levels total.
Check this out.  This is in the south end of the food court, with the old Mozzarella's location to the east.
Now that's the children's play area in the middle, so prudence dictated that a pudgy 42-year-old man didn't stand there and take a slow, considered panorama of the area.  But look at all of those vacancies.  Remember this area?  Steak Escape?  McDonald's?  Today it is possible to stand in the depth of this space and be 50 yards from anywhere you can spend money.  That's how large it is.
In a mall.  Inside.  Half a football field away from a merchant.
The biggest tragedy of this whole thing is that I don't think it would take much to reverse course at Madison Square.  The property is well located, and in good condition.  Doesn't have to be my idea, but it definitely needs an idea.
Similar Posts: