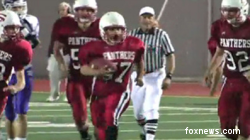 On the last play of a high school football game in Snohomish, Washington last week, 17-year-old Ike Ditzenberger, who has Down syndrome, "scored a touchdown" as the opposite team pretended to try to tackle him.
So lying is all right, if the person you're lying to has Down syndrome? Is what I've described any more complicated than that?  Hey, let's take an airplane trip with him and tell him that he's making the plane fly with his mind.  What's the difference?
I suspect everyone's heart was in the right place. But how carefully was this considered? Is bending reality for this young man truly in his interest? Moreover, apparently his mother is actively stoking his desire to play college football, which, absent similar systematic deception, is clearly ridiculous.
I want a person with Down syndrome to experience all he can, and as people like John Mark Stallings demonstrate, that can be quite a lot. However, I have serious reservations about whether that should extend to his family and friends deceiving him about what he can do, and thereby actively distorting his understanding of success.  Also, I certainly don't think his mother should be talking college ball up to him, when the chance that will have a cruel end is so high.
I think it would be more dignified, and more importantly much kinder, to find him a role with the football program in which he can actually contribute. That's valuing him, not patronizing him.
As a society, we talk quite a bit about those with challenges deserving inclusion and respect, and I'm all for that. But I think if we're really trying to do that, we genuinely include them, not lie to them. We have one world.
Similar Posts: