I'm more interested in the latest late night talk show war than I'd like to be, but…there it is.  So here are my thoughts.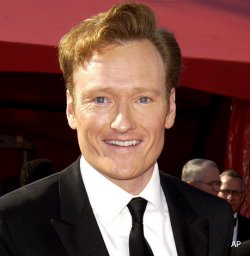 In case you don't know the story, Conan O'Brien began hosting The Tonight Show in June last year, per an agreement made five years earlier with NBC and Jay Leno.  Only, then they decided to stick Leno on five nights a week anyway, at 10/9 Central, with a show very much like the Tonight Show he did.
Lame.  Said so then; saying so now.
Hey, guess what?  Leno's ratings suck.  So now, the geniuses at NBC want to shorten the show to 30 minutes, stick it at the original Tonight Show time slot (11:35/10:35 Central), and bump The Tonight Show with Conan O'Brien to 12:05/11:05.  Conan said no, that's a horrible idea, and by the way, you people aren't doing me right at all.
I think he's right.
I am only an occasional consumer of late-night talk shows.  I haven't watched regularly in most of 20 years.  However, I know who's who and mostly what everyone's about.
I have not had any strong opinion about Jay Leno since he started hosting The Tonight Show in 1992, and that's mostly because of who Leno became to do that.  To me, once he sat in that chair full-time, his entire presence was so toned down and carefully measured (so as to not "scare the shit out of the Midwest," as Artie so eloquently expressed the problem once) that I found him pretty boring.  Jay Leno, the stand-up comic in the '80s, was a hell of a lot funnier than Jay Leno, the host of The Tonight Show.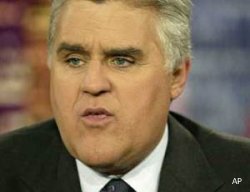 And he's got a big chin, and an odd voice, and lots of cool cars, and blah blah blah.  Seems like a nice fellow.
Well, it's looking very much to me like he isn't.
The only good thing for Jay Leno to do—and now it's too late for it look altogether genuine, but it would still be best—is to convince the NBC nitwits to leave Conan alone, and then walk away.  It would be decent and gentlemanly.  (Not holding my breath; there is a lot of money in play, after all.)
Look, The Tonight Show's ratings took a hit when Leno took over too.  Letterman pasted him often in the early going.  It's ridiculous for NBC to behave as if Conan's ratings—which aren't bad, but aren't as good as Dave's—are, right now, meaningful in a larger sense.  The Tonight Show is a long, long-term institution.  Conan O'Brien is only the fifth guy to sit in the seat—ever.  To jerk him around seven months in is absurd.
So what's going to happen?  One web site reported yesterday that Leno's back in on The Tonight Show, and Conan is no longer an NBC employee.  NBC denied that, but didn't provide an alternate narrative.  We shall see.
No matter how it goes, I now think Jay Leno is rather tacky.  If it does go down as the previous paragraph describes, then he's an out-and-out thug.  NBC seems full of the morons Letterman always said were there (and he's having a blast with the flap on Late Show).
Finally, Conan seems like the same unassuming and funny fellow he's always been, and I'll watch closely to see where he lands.  If he does wind up going head-to-head with Leno on a competing network, then consider my interest in late-night television renewed, because I'll be a large Conan fan.
Similar Posts: