Sonic Boom, the first new Kiss album in 11 years, was released today.  Went to Wal-Mart for it, as it's exclusive there (and Sam's).
I've been a Kiss fan almost all my life, and I'm funny about Kiss records.  I'm not going to tell you it's the best since Destroyer, or Creatures, or Revenge, because I don't know yet.  It has to settle into my life, and I won't be able to rank it against the back catalog for six months or so.
But a review of Sonic Boom won't be topical in six months, so here we are.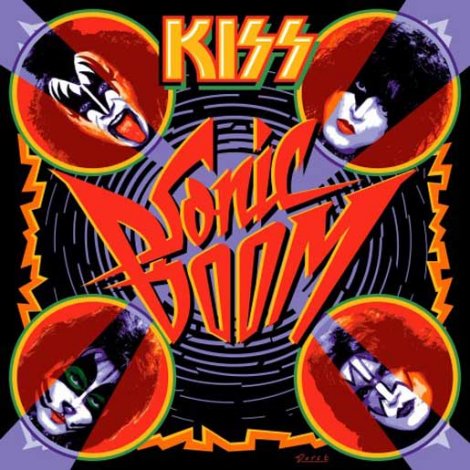 I will say that the consistent impression I've had listening to it today is that Paul and Gene have rediscovered how to write a Kiss song.  This thing has grabbed me, and what I keep thinking is "where have you been?"  As I said, I don't know where it will ultimately rank, but what it feels like in my ears right now is a Destroyer, a Rock 'n' Roll Over, or a Love Gun recorded in 2009.
The band has rediscovered the deceptively difficult art of the hook, for one thing.  God, these songs are aural heroin.  It's not like "hey, that sounds good"; it's like "come here and let me crawl all over your brain with my infectiousness.  You like that?  Here, have some more.  One more won't kill you."
It stirs.  The nasty undercurrent of "Russian Roulette" is primal, thoroughly funkifying you with its syncopation and phrasing.  Pole dancers shall do serious damage with this song.
It evokes.  "Yes I Know (Nobody's Perfect)" recalls classic Kiss—the Beatlesesque classic Kiss.  This tune resides somewhere between "Let Me Know" and "Kissin' Time," and would have been quite at home on the eponymous debut, 36 years ago.
It shares the spotlight.  Eric Singer takes a lead vocal and offers an appealing grittiness to the anthem "All for the Glory."  Tommy Thayer's lead vocal, "When Lightning Strikes," is an early favorite of mine.  More cowbell!  (And it really could be an accident, but I like this perverse turn on the riff from "Never Been Any Reason.")
My #1 track (tonight) is "Never Enough."  I think I hear in this song what Paul was trying to deliver in "I Pledge Allegiance to the State of Rock 'n' Roll," but it comes through this time.  What a marvelous melody!  The chorus is boring a hole in my soul.
I keep returning to the concept of cohesion.  This record feels all of a piece.  It's carved from consistent good stuff, with occasional complementary veins, all the way through.  It's what I thought Psycho Circus was going to be, after being heartbroken when it fell apart after "Into the Void."
The only significant nit (oxymoron alert) I have is with the backing vocals.  I'm sensitive to excessively slick production, particularly in rock 'n' roll, and in spots there's just too much polish to suit me.
(I like a little grit in my hard rock like I like the light catching those cute little hairs in the small of a woman's back, dig?)
Moreover, there's occasionally too much voice in general.  There are a few places where it sounds like everyone in the band is singing continuously, and it's been that way long enough in the song that I can't even remember when it started.
Besides the fact that such has never really been a hallmark of the classic Kiss sound, they've set themselves up several vocal landscapes that will be quite impossible to reproduce live.  The quality of the harmonies is excellent, and I know it's a good thing to have four guys who can sing.  I just wish they'd held back a little more on the hyper-layered stuff.  (That I like a tablespoon or two of hot fudge on my ice cream doesn't mean I want a gallon of it.)
I've been told my sensitivity to such things is excessive.  I mention it because, well, I'm reviewing the album, and that's what I heard.  If I'm describing a peeve of yours, this record will probably trip it to some degree.
Now see, that complaint wound up with five paragraphs, and it really is a minor one.  This is a truly excellent hard rock record that wastes not even five seconds, and it's pummeling me with more Kiss goodness than I'd have thought possible in 2009.
Be warned:  it's gonna crawl ya.  9/10.
Coda
There are bonuses in the package.  Kiss Klassics contains 15 re-recorded Kiss favorites, and a bonus DVD captures six songs of a Buenos Aires concert from April.
Now mind, these are essentially free (the whole Sonic Boom package is $12).  That being the case, understand I'm not being critical in a "man, what a gyp" sense, but in my view, there really isn't much value added.
It's my understanding that Kiss Klassics is the offspring of a business decision, as in the songs were re-recorded so they could be licensed free of (presumably undesirable) restrictions on the original recordings.  Well and good; I'm a raging capitalist, and more power to Kiss, Inc.  (Seriously; no sarcasm intended.)
But given that purpose, the new recordings are constrained very tightly to the originals.  It's not at all difficult for a fan to hear the difference; there's just very little new brought to the songs.  I did enjoy the additional bottom given "Hotter Than Hell" and "Christine Sixteen," both of which benefited noticeably from modern production, but by and large, I don't foresee Kiss Klassics receiving much of my ongoing attention.
Similarly, the live DVD is definitely worth what you pay for it (remember, gravy).  It gets you a few classics that aren't on Rock the Nation—"Watchin' You" is a longtime favorite, and I enjoyed it—but the image is consistently pixelated, and the sound is tinny.  As a low-budget throw-in, it's fine, but I'm glad I didn't pay for it.
Similar Posts: