I've worn regular old briefs for my entire life, and for the past several years I've replaced all of them annually.
But I've wondered about boxer briefs. Now I know I don't like regular boxers. I went through a boxer period in college and shortly thereafter, and while I love the comfort, I don't like flopping all over the place. They're just a bit too free. I don't need it to be slammed against my leg like we were in a centrifuge, but I don't like having absolutely no idea what it's going to do next either. Follow?
Let's get this out of the way up front too: I'm a fat guy. I'm not sideshow gigantic, but I'm also rather beyond "a bit chubby." Nobody wants to see a photograph of me in my underwear, and you won't get such in this post. I'll also be discussing comfort and practicality much more than aesthetics. Each product I evaluated was in size XXL/2XL.
So, we're all on the same page? Excellent. Let's proceed.
Here are the Two Universal Truths of Boxer Briefs—things you should be ready for if you're moving from briefs:
If you've been maneuvering Mr. Happy under one of your underwear legs at the urinal, you have some relearning to do. When you wear boxer briefs, the legs go way further down. Work on mounting and dismounting through the dedicated fly. Practice at home if you need to. It may be harder than you think in the heat of the moment, particularly if you really have to go.
You feel your underwear very much less on your bottom when you wear boxer briefs. From time to time, depending on the exact position of your pants, this is going to feel like you're walking across the room or the parking lot with no pants on. It's all good. Relax. They're there. They're just not grabbing you.
I have evaluated three different pairs of boxer briefs in this test. Product-specific comments follow.
Duluth Trading Buck Naked Performance boxer briefs ($23)—When a cartoon guy is pole-dancing wearing this underwear in the ads, that gets your attention. I was excited to put these on for the first time, and guess what? I was impressed. These grab where you ought to be grabbed, and let you float—just a bit—where you ought to float. There is no chafing anywhere—the wide yet exceptionally friendly waistband is particularly impressive in this regard—and where the fabric does contact your skin, it's smooth and unobtrusive.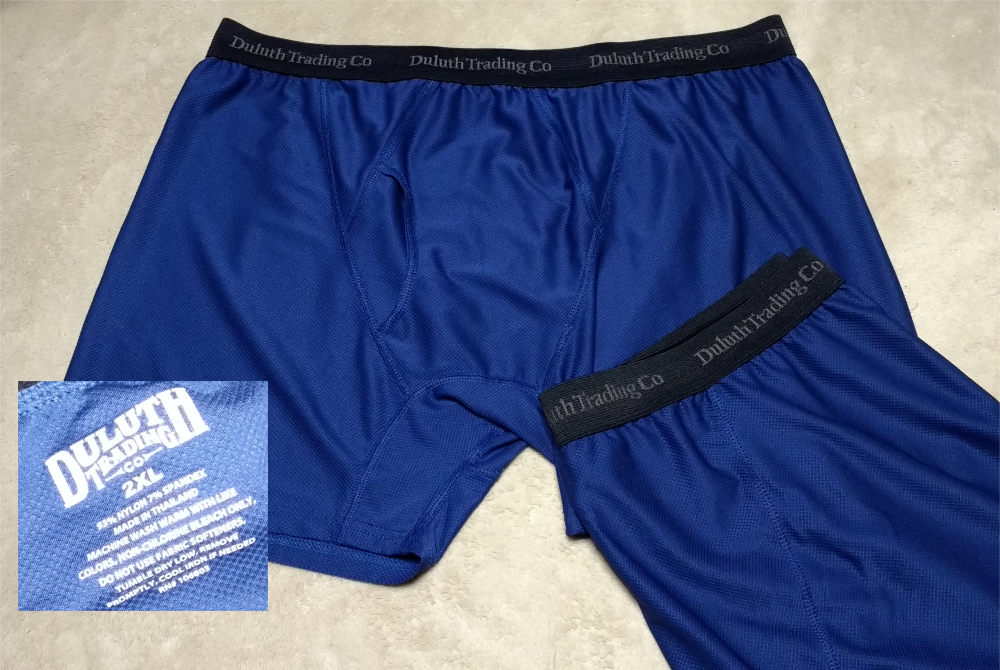 This fabric blend excels at keeping you cool, though it's a bit jarring at first. It's like an athletic jersey, almost, and I wondered about its absorbability when it might be needed. It performed admirably. The fabric visibly holds moisture, but also wicks it very effectively. I saw it on the garment, but did not feel it on my skin.
Mack Weldon 18-Hour Jersey boxer briefs ($24)—This is the line of underwear that introduced me to the concept of a single pair of men's drawers costing this much. I wrote about it in my first underwear post. That being the case, I wanted to include them in my evaluation. They get big points for presentation, arriving in their own reusable container (which I suppose I would call a lingerie bag were it not a man's). The fabric feels fabulous. It's soft and soothing against the skin. I'd love a shirt that felt like this.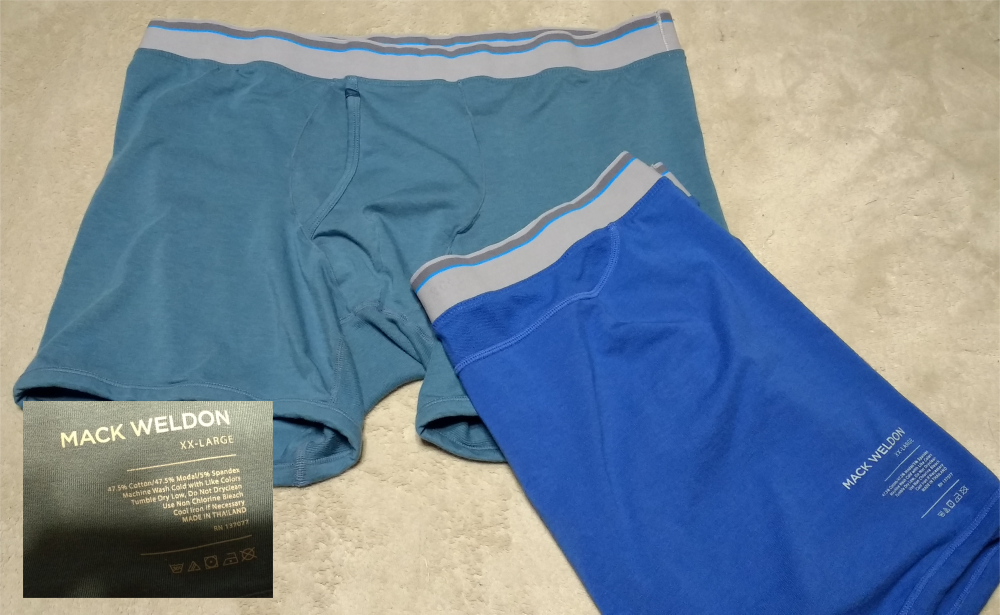 The Mack Weldon fit paradigm, however, is quite different. These are designed to be form-fitting, and much tighter against the skin than the Duluth Trading product. For a man 100 pounds lighter than I am who goes to the gym three times a week, this may be a good thing. For me, the experience is not awful, but it's much less correct. I have slept in the Mack Weldon boxer briefs and worn them all day, and I was much more comfortable than not—but I was also aware of them much more often. I was supported, but I also encountered a patch of localized sweating if I was too still for too long. That did not happen to me with the Duluth Trading underwear. I also didn't care for the direction to wash the Mack Weldon product in cold water. Underwear should be washed in warm water. My mama taught me that. It should be manufactured to withstand such.
Hanes ComfortFlex Tagless Men's boxer briefs ($4)— I included this product as a control. If I were simply switching form factors and not looking at premium products, this is in the neighborhood where I'd have landed. These are comfortable out of the package, and the compromise of boxer briefs is well represented. There is support in the crotch. There is no pressure point chafing. These do hit me a little more in the butt than the Duluth Trading boxer briefs.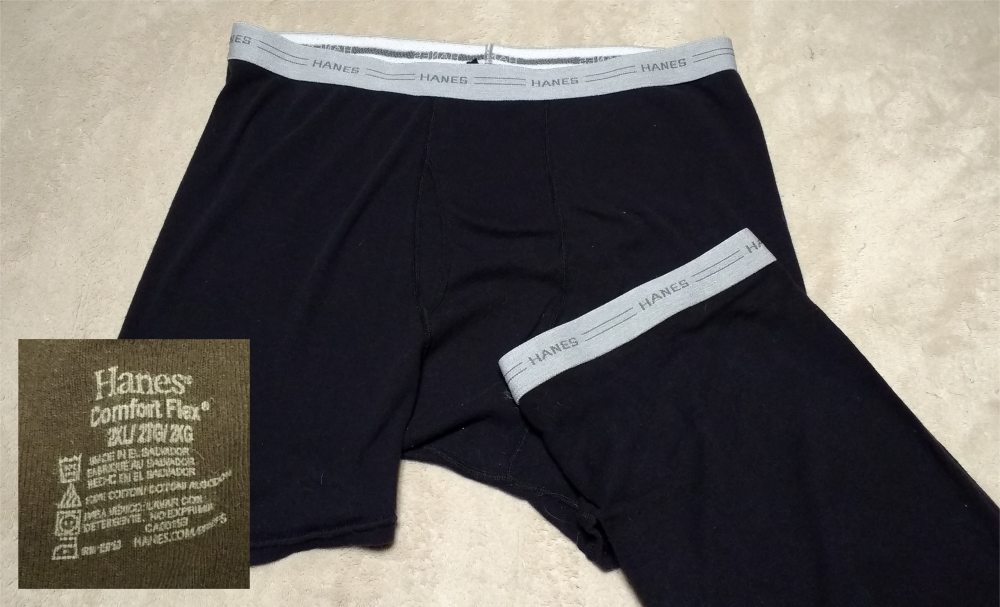 However, this fabric feels just like the briefs that I've been turning over 100% annually for the past several years. There is probably two-thirds of the Duluth Trading experience here initially for only one-eighth of the price, but how long will it last? And how much is that third worth anyway?
Conclusions
Whether a single pair of men's underwear is worth $20+ is a tricky question. From a fashion perspective—and really, probably a comfort perspective too—a pretty man is getting some value from a $24 pair of Mack Weldons. The garment is put together well, and it's comfortable (in context). And, if said pretty man is going to lounge about in his underwear in the presence of other pretty people in their underwear as a matter of course, then this is the product in which to do it.
The Hanes boxer briefs are more comfortable and practical to me than the Mack Weldon boxer briefs, but they also give me every indication that they'll age rapidly. Nevertheless, I will keep the four pairs that I purchased in the rotation. They wear well enough during the day to use, and I would like to gather real-world data on their durability. I doubt that'll be another post, but it may be a comment here, dig?
The Duluth Trading underwear has won me, as much as it can for the moment. I've augmented my initial supply a bit, and we'll see how we go. It's going to hurt my feelings if they don't last any longer than a year, but then I probably need to work myself up to two weeks' worth in inventory to make that comparison valid, don't I?
Watch for follow-ups, and thanks for reading.
Update – June 2019
I've had 24 pairs of Duluth Trading Buck Naked boxer briefs in regular rotation since shortly after I wrote this post in August 2017. (I wear them nearly exclusively. I also have two pairs of Duluth Trading Armachillo boxer briefs in service.) That's nearly two years of use, and the week our Duluth Trading store opens seems a fine time to report on their long-term performance.
In a word, it has been excellent. My Buck Naked boxer briefs continue to wear and perform as new, and I couldn't be happier. There are only two visual indicators of slight wear on a small number of the garments:
That's it! And each of these indicators of wear affects only about 1 in 5 pairs. Unless things take a dramatic turn, I'm confident in saying I can keep a pair of Buck Naked boxer briefs in service for three years with no performance degradation, and possibly even longer. We'll see how we go. That makes the price much easier to swallow, yes?
On that note: don't pay $22.50 per pair. There are frequent sales and coupons, both online and at stores. Generally you can get in the $17-18 range without much trouble, and once in a while they're as low as $15-16.
Duluth Trading Buck Naked boxer briefs receive my highest recommendation.
You might also like: