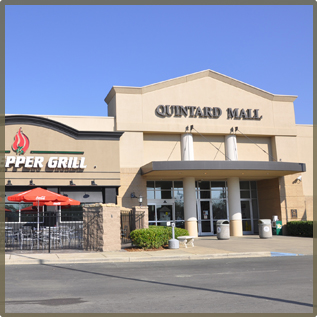 Danette and I spent some time in Quintard Mall when I was down last weekend.
Quintard Mall has doubled in size since I left the Anniston-Oxford area in 1986.  But the original mall is still quite obvious to anyone who ever saw it.  Wow, it was tiny.  Unless you were deep in a store or something, it wasn't even big enough to be out of earshot.  If you were out in the mall, and I was too, and I yelled for you, you'd hear me.
Nothing makes me feel more like I came from a small town than the high regard in which I held the mall.  Apart from something truly special and infrequent, like staying with Granny and Papaw in Panama City or going to an Alabama football game, going to the mall was as good as it got, man.  I remember thinking it was just magical when it was decorated for Christmas, with the garlands hanging from the ceiling and the motorized elves surrounding where Santa sat.  A few other thoughts:
I have very early memories of there being a Kroger in the mall, with an exterior entrance with big, white block letters.  Were grocery stores in malls ever a widespread thing?  Or was this an oddity of Quintard Mall?
It was dark in the early days.  The floor was polished concrete, and it just never lit up that much inside.  It was certainly not like the norms today.
There was a toy store/five-and-dime called Elmore that sat just about where they blew the wall out and expanded.
Radio Shack is still where Radio Shack was when I was seven years old.  I stood there for a second and thought "yup, I remember a TRS-80 being set up right here."
Griffin's was an ice cream parlor that always kept five or six arcade games.  I remember playing Xevious and Dragon's Lair there for the first time.
Mom managed Brooks, a women's clothing and accessory store, for a few years.  (The absence of the apostrophe is accurate, if incorrect.)  Her coworkers included a striking and tall black woman named Jackie, and a cute, slightly pudgy blonde named Deanna who haunted my fantasies for months.  (The initial explosion of puberty was a torturous time for a boy's mom to work in fashion retail.)
I remember going in Newsom's Music Center, the record store, in its old, west-side location and looking at the party lighting (you know, lava lamps, those fuzzy fiber-optic lights, and so forth).  It seemed like they were the same ones all the time, like no one ever bought one.  It smelled like Hubba Bubba in there, or maybe Hubba Bubba smelled like whatever that smell was.  I remember buying the 45 of "Words" by Missing Persons there.  I also specifically remember holding Ozzy Osbourne's Speak of the Devil and thinking that must be jam in his mouth.
I remember perusing the Dungeons & Dragons display in Gateway Books frequently, periodically picking up a new module or a Dragon magazine.  I can remember someone making a mistake in ordering or shipping and there being perhaps 50 copies of U2: Danger at Dunwater on the shelf.
One of my favorite quirky blogs, Sky City: Southern Retail Then and Now, has a comprehensive write-up on Quintard Mall, with some great photographs (including one of an original MALL ENTRANCE sign that I remember from my childhood, and that likely dates to the mall's birth).  I'd still like some photographs of the mall interior from then, though.  I've periodically blegged, with no fruit, but I'll do so again:  anyone have any photos of the mall from, say, 1970-1984?  I would love to see them.
Until we meet again, Quintard Mall.  I'll spend more money next time.
You might also like: