My old friend Jeff Rybak died suddenly on Sunday.  He was 47 years old.  He leaves behind Amy, his wife of 23 years, and their three children (Nick, 20; Erica, 17; and Ian, 9).
You know what?  Jeff leaves behind everyone who ever interacted with him.  He was a special guy, with equal parts strength and grace.  He had a sense of humor that would lead him to do things like have a serious conversation with you and have you nodding, then end it with something absolutely ridiculous (but without changing his facial expression or tone of voice).  He'd enjoy you sitting there trying to process what he'd said, then let you off the hook with his big, big smile.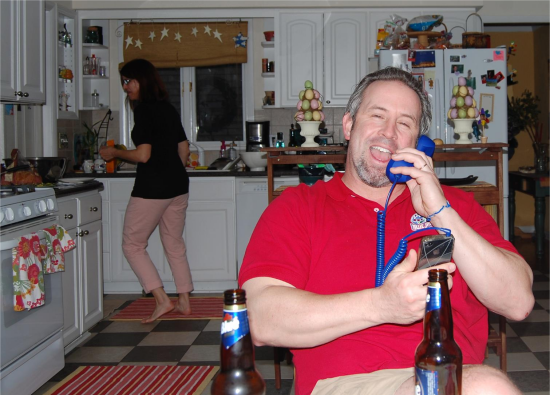 I don't know the story of the above photograph, but I don't have to.  It's Jeff bringing joy to the mundane.
Jeff and I worked as writers and trainers together at Intergraph, somewhere between several and many years ago.  By the time we crossed paths, we were the entire department.  Our boss trusted us to take care of business, so pretty much, working with Jeff felt a lot like hanging out.  With many common interests and similar values, we were fast friends.  He was a Renaissance man, who kept a reasonable humility about himself despite excelling at everything he ever tried (and it's a long, impressive list).
He was the only true jock and true academic I've ever known.  We could move from poetry, to college football, to cars, to string theory in the space of ten minutes, all against a backdrop of Jerky Boys and cold beer.  One year a few days before Christmas, it was unseasonably mild, and we were caught up through the first of the year.  So we sat under the Intergraph flagpole and laughed our way through a six-pack of Molson Golden for lunch.  I still think of that day, and him, occasionally when I drive by the spot on I-565.  It was one of those moments in time that wound up defining that chunk of my life to some significant degree.
Jeff and his family had moved back to Bowling Green, Ohio several years ago, so our relationship had been one largely of correspondence as of late.  Still, he splashed with enough vigor in my life, and we bonded to enough of a degree, that I never know quite when he's going to pop into my head.  You get connected with someone with private jokes, shared experiences, and so forth, and that happens.  You know what I mean.
We had a lot of laughs, but we had a lot of serious discussion too.  Jeff took his responsibilities as a husband, a father, a professional, and a good neighbor seriously.  I'm heartbroken for Amy, Nick, Erica, and Ian.  They have lost a giant.  I will hold them up in prayer indefinitely.  I cry for his parents.  I cry for his friends.  I cry for anyone privileged enough to have spent time with him.
I will miss you big-time, man.  You were one of a kind.  Godspeed, my friend.
You might also like: