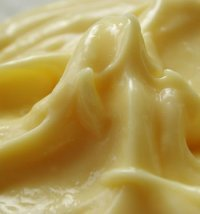 No injuries were reported in yesterday's accident.
And where's a tuna truck when you need one?
Now it's difficult for me to fathom that 40,000 lbs. of mayonnaise could spill without anyone thinking to grab a camera, but that's a reasonable conclusion so far, as I haven't seen photo one of this.  If you have, let me know.
Seems a photo could offer some clarity, too.  I mean, was the mayonnaise packaged for retail?  How perfect would the wreck have had to be for so many jars to break?  Too perfect, I think.  So maybe it wasn't packaged.  But then, what would be the point of moving so much bulk mayonnaise?  Are we talking about a tanker truck?  Wouldn't you think mayonnaise would be put into containers at the place of manufacture?
Do you think gasoline tanker drivers make fun of mayonnaise tanker drivers?
Mayonnaise is hilarious.  Mayonnaise, mayonnaise, mayonnaise.  Mayonnaise.