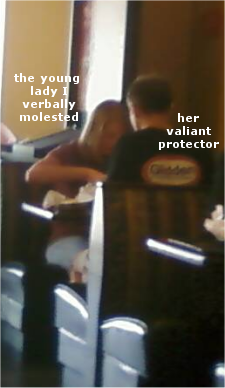 Bradley, Trent, Tommy, and I went to Moe's today for a Billy Barou.  As we waited, the male half of a young (20ish) couple in front of me ordered this huge burrito I'd never seen.  As the burristo was wrapping it up I said "mmm, that looks good."
Now understand the female half of the couple in front of me was standing closer to me.  In direct response to my utterance (I am sure; it was unmistakable), the young man put his arm around his girlfriend, pulled her away from me, and very close to him.  The two then strenuously avoided looking back my way.
I almost laughed out loud, it was so comical.
Dude, here's some free advice:  you need to relax.  A lot. You're going to get your ass kicked.  Or your heart broken.  Or maybe both.  The former, because you'll eventually behave that way to some redneck who's going to enjoy picking on you about it, and you're going to get mouthy.  The latter, because most any woman worth being with long-term will ultimately resent your overbearing "protection."
I've lived a bit, but still have much to learn.  I accept that.  Hell, I embrace that.  But I'm pretty sure I've got petty jealousy sussed.  For that I am thankful.
You might also like: