Bailey, our 10-year-old, slightly hyperactive springer spaniel mix, started raising hell about 5:00 this morning.  This is infrequent but not unheard of, and I figured he was expressing his dissatisfaction with a roofer, approximately 700 of whom have been in the neighborhood at any given moment since April's hailstorm.
Lea found the actual cause late this morning.  Bailey had treed (guttered?) a juvenile raccoon.
Now when she was telling me about it on the telephone, I conjured a mental image of a sprightly young critter, sitting comfortably and taking it all in, gazing below with that wonderfully expressive face.  As you can see, the reality was more like "crammed in a hole for six hours, safe for the moment, and please God make it stop":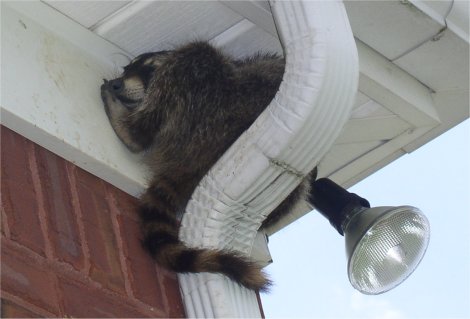 Poor thing.  We've all had those days.
So Lea put the dogs up, and an hour or so later, the raccoon was gone.  Godspeed, buddy.
(And just for the record:  I know they're adorable, intelligent, and all that, but raccoons are seriously vicious little bastards when they feel threatened, which is going to be a lot of the time when in close proximity to a human being.  Don't mess with them.  A wide berth is indicated.)
You might also like: