I've loved Monopoly since I was little, and played an awful lot of it with the kids in my neighborhood growing up. It's a bit unusual for me, because I'm not a big fan of most games that include a large element of chance. There are dice in Monopoly, so there is an element of chance, but much of its effect can be mollified with effective strategy.

Get this straight at the outset: Monopoly does not take substantially longer to play than most other board games. (What did he say? Everybody knows Monopoly takes three hours!) No, it really doesn't. The problem is that most house rules badly unbalance the game and make it take a long time. Unfortunately, many, many people play with house rules, and some want to take you to the mat swearing their house rules are the official rules.
In my experience, violations of these four rules contribute the most to making a Monopoly game take a long time:
Nothing happens when you land on Free Parking.

One house rule says you get $500 when you land there. Another says you get all of the fees collected (income tax, Chance/Community Chest, luxury tax). Another says you get both. Folks, if you keep arbitrarily injecting money into the game, it substantially dilutes both the reward of the wise investor and the punishment of the poor investor.

Nothing happens to you on Free Parking

.

If a player lands on an unowned property and does not buy it, it is to be auctioned.

You don't want to own Mediterranean Avenue? Great. But the highest bidder will before your turn is over. (Generally speaking, when you land on an unowned property you should buy it.)
The bank never runs out of money, but the bank

does

run out of houses and hotels. There are exactly 32 houses and 12 hotels, and when they're gone, they're gone. Moreover, to build hotels, the number of prerequisite houses must be available in the bank. To build hotels on a 3-property monopoly, 12 houses must be available (4 for each property). If they aren't, no hotels for you. So in an evenly matched game, you can swing the course dramatically by stopping at 4 houses when you improve a monopoly. If your opponent can't build, you won't pay the big rents.

There is no such thing as "immunity," and you can't refuse to charge rent.

You can't waive rent for a player in exchange for a future pass on that player's monopoly. You can't say "I don't pay on your monopolies, and you don't pay on mine." (You can if you want the game to last forever, I suppose.) (

Update 3/15: Reader marzolian points out that immunity is indeed within the rules, as nothing compels you to collect rent when an opponent lands on your property. So two players could create a de facto immunity by "forgetting" to collect rent consistently. Thanks for the correction!

)
And while we're on the topic of house rules: yes you do collect rent while in jail; no you don't have to go around the board once before buying property; and yes you do have to build houses as evenly as possible on a monopoly.
So what do you do to win?
Try to own the oranges and/or reds.

The ideal monopoly has moderate building costs; substantial rents; and gets landed on a lot. The oranges (St. James Place, Tennessee Avenue, and New York Avenue) and reds (Kentucky Avenue, Indiana Avenue, and Illinois Avenue) are the best bets on the board. Folks hit 'em coming out of jail; folks hit 'em with Chance cards; folks hit 'em, period. Own them; if you can't, block them. If you have both of these monopolies and the money to develop them, you have a great chance of winning the game.

Try to own

at least three railroads.

Rents get serious at three railroads ($100), and of course even better at all four ($200). If you get at least three, you can count on them as a steady and substantial source of income.

Don't be afraid to mortgage early to accomplish your strategic goals.

If you can complete or block the formation of the orange or red monopoly; pick up or block a third or fourth railroad; etc., but you have to mortgage to do it, and it's early in the game,

do it

. There aren't any huge gotchas on the board yet, and if you think you can unmortgage it in the next trip or two around the board, then go ahead. Think long-term. Sometimes incurring a little short-term debt suits long-term goals perfectly.

Stick someone else with the greens, if you can.

Yes, rents are high for this monopoly (Pacific Avenue, North Carolina Avenue, and Pennsylvania Avenue), but so are housing costs. The perfect deal leaves your opponent with all of the greens, but little cash. Play it smart, and the player won't last long enough to come up with the $3,000 it takes to put hotels on them.

Be brutal!

Be friends only until you get what you want in a deal. You're driving your opponents to bankruptcy.

Never

forget that.
The Monopoly Companion is an excellent and fun-to-read resource for improving your game. Much of the advice above is contained therein. Furthermore, it contains frequency-of-landing and average rate of return charts for all monopolies, trivia, and other fun stuff. Definitely worth picking up if you enjoy the game and you can find it (unfortunately, it's out of print).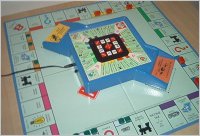 I still love the game. I still have a working Monopoly Playmaster from 25 Christmases ago, which makes a bit of a different (but equally enjoyable) game. I'm looking forward to my children being old enough to play. Won't be long for Nathan.
You might also like: