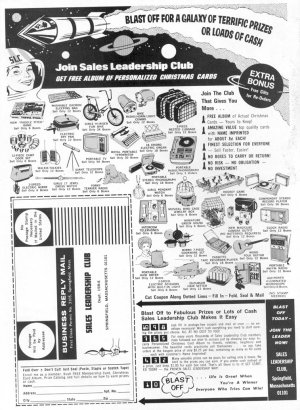 Remember those children's sales clubs that advertised on the back covers of comic books (and Boys' Life, and probably a few places I'm forgetting)? The deal was, they'd send you a catalog of inexpensive merchandise (thank-you cards, address books, plastic desktop organizers, seven-in-one tools for the kitchen drawer, that kind of thing) for you to hawk door-to-door. Usually everything in the catalog was priced consistently, like either $3.00 or $4.00. So you go around with the catalog selling stuff. Then you send in the order with the money, and they send you back the merchandise.
The cool part–indeed, what took up nearly all of the ad space–was the prizes. You could pick a prize corresponding to the number of items you sold. Of course the prizes got steadily nicer the more items you sold. So if you sell 5 items, you might qualify for a little teddy bear or something. Sell 10 and you might get a calculator. You could get a decent tent for 20. And so it went up to the ridiculous stuff you knew nobody ever got but that you dreamed about anyway, like 19″ color TVs and minibikes. If you didn't want to pick a prize, you could opt for cash and keep $1 for every item you sold. For the cash, you just shorted the amount you sent in, if I'm remembering correctly.
There were at least three that I can remember: the Olympic Sales Club, the Youth Opportunity Sales Club, and the Sales Leadership Club. I was in all of them at different times. They were essentially indistinguishable from one another, though I have a vague recollection of thinking the Olympic Sales Club had the best prizes. I can remember getting a remote control car, an AM radio that looked like a cheeseburger (what were we thinking [socioculturally] in the late '70s?), and an Anniversary Edition of Monopoly. That was probably the best choice I made, because we had a pretty hardcore group of players in the neighborhood.
I was disappointed to discover that these clubs seem not to have survived on the Web in some form or another. I suppose there are so many scams anymore that anything that sounded like this wouldn't make a good pitch in the first place. Too bad.
Thanks to www.stuckinthe70s.com for the Sales Leadership Club ad image.
You might also like: