My parents divorced six months after MTV went live. I was not quite 11 years old. And Martha Quinn, Alan Hunter, J.J. Jackson, Mark Goodman, and Nina Blackwood were my foster-parents. I'd lie in my dad's black beanbag chair in his den and watch/listen nonstop for eight and ten hours at a stretch.
And there Greg Kihn always was, you know?
At that age I never jumped out there and identified myself as a huge fan, but I knew I dug the hell out of "The Breakup Song." That live video that MTV played so much was just how I thought live music ought to be: true to the album recording, but more. Hey, you've already sweated all of the details in the studio getting it just right, so don't suddenly distrust that vision…but give it more. A little crunchier. A little harder on that snare. A little more growl.
I've said for years that if I ever have a rock 'n' roll band, we're opening with "The Breakup Song."
Of course, it wouldn't be too long before he'd have his huge FM and video hit "Jeopardy," with its infectious riff and zombie video (decades ahead of its time, it turned out).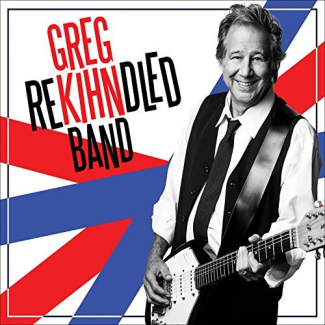 Now here comes Rekihndled, the first all-new Greg Kihn Band recording in a presidential administration or three. And it happens that Mr. Kihn and I follow each other on Twitter, so I got to hear about it. I might have missed it otherwise. I'm sure glad I didn't, because I love this record. It's my favorite of 2017 so far.
The common thread is, perhaps, the one you'd expect—honest, guitar-based rock, solidly infused by a love of the 1960s. Any of these eleven songs will sound fantastic live, with big, singable choruses seasoned with an occasional spicy riff. There is also impressive range, though—pushing the envelope without losing the narrative. Songs like "Cassandra" and "A Place We Could Meet" have an almost British quality (Nick Lowe? maybe even a splash of Graham Parker?), while the album opener "The Life I Got" is toe-tapping heartland power pop. I think Cheap Trick fans will find that one near and dear quickly.
With other titles including "Big Pink Flamingos" (the first single), "The Brain Police," and "Trained Monkey," you can rest assured we don't have a record that gets lost in its own pretention. "Flamingos" and "Monkey" are as much fun to blast on my morning commute as anything in the past several years. And listen for a little Lizard King vibe in the "Brain Police" vocal. I don't know whether it's on purpose or not, but it's tasty indeed.
Speaking of blastability, longtime readers may remember that I'm sensitive to overproduction. I'm delighted to report that Rekihndled gets it right. This is rock 'n' roll, not a debutante ball. Get rid of the boulders, if any, but the occasional pebble tells me it's real. Bravo! Just the right level of dirt, with nearly completely unmolested rock the primary deliverable. This record could have come out 20, 30, or maybe even 40 years ago sounding just like this, and I mean that as a substantial compliment.
I've had the record on for three days straight. Another week or two is likely. It's fine work, with a lot of midnight oil burned. Any rock 'n' roll fan is going to find this a fine use of a few dollars. Go get it now.
9/10
Similar Posts: