I went to Anniston today to see two friends.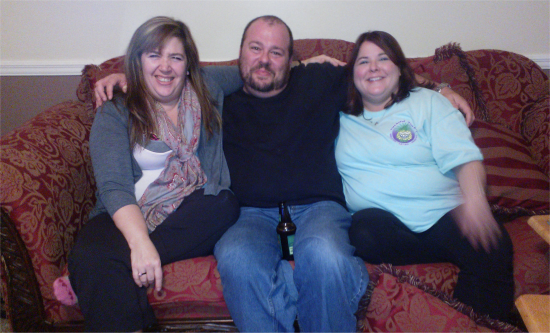 My friend Nancy (your left, my right) is one of those lovely discoveries of adulthood that becomes possible once you shed all of the social nonsense (mostly borne of insecurity) that you're trying to navigate as a child.  We were at Oxford High School at the same time.  She was aware of me, and I was aware of her, but for no reason that is good enough, we never really spoke.  Turns out we had a lot in common, and should have been buddies.  That manifests now as the two of us sharing huge swaths of pop culture and humor, with engaging and intelligent laughs flowing freely.
Marianne (your right, my left) and I had a study hall together with a teacher who permitted us to talk as long as we kept it low.  We hung out there.  We also knew each other a bit from band.  She was one of these people you went to high school with who didn't really seem like a student.  Did you have any of those?  It was like, there were the rest of us, and Marianne was about 27 years old and almost checking on us.  She was effortlessly cool—really almost aloof in some ways—but still friendly and engaging.  She never seemed like a girl.  She always seemed like a woman.
She has since assured me multiple times that she was just as scared and unsure as the rest of us.  I'm not quite sure I believe it.
We had drinks, sushi, a board game or two, and several deeply satisfying laughs today.  Thank you, dear ladies.  See you again soon.