I can't believe Lake Winnie has been sitting over there my whole life and I never even knew it, much less visited.
Just south of Chattanooga, Lake Winnie (short for Lake Winnepesaukah) is a family-owned and operated amusement park.  BamaDan and his family have been going for three years now, and he had mentioned it to me more than once as a trip we should take together.  We finally made it today, as a dads-and-sons trip.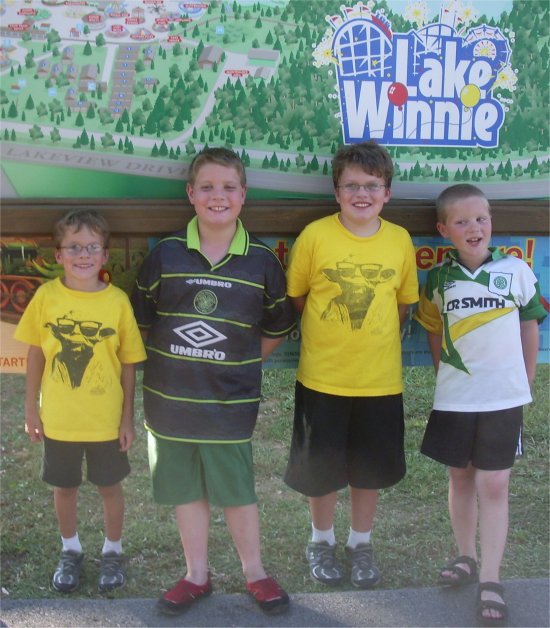 It was my boys' first trip to a full-up amusement park, and we all had a really marvelous time.  Here's Aaron doing his new most very favorite thing in the entire world:
It's not sprawingly enormous, but it doesn't need to be.  There are dozens of rides and attractions, including some packing some serious thrills.  The Cannon Ball is a fine old-school wooden roller coaster, about 80% of the size of the Great American Scream Machine at Six Flags Over Georgia.
There are other classics, like a Matterhorn (lots of fun) and a Tilt-a-Whirl (no thanks; the multi-axial motion is the only sort of amusement ride force I can't tolerate), as well as what is believed to be the only operational Eyerly Fly-O-Plane left in the United States.
The OH-Zone! is a 14-story free fall drop ride, and easily my favorite in the park.  You get a beautiful view on the teasingly slow way up, followed by two of the most exciting seconds you'll ever experience as you plummet.  Wow, what a thrill!  I was laughing uncontrollably when I got off.  Even talked Nathan into riding it.  Maybe next time he'll open his eyes.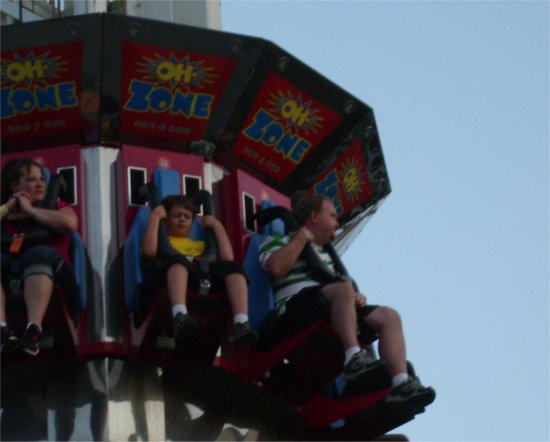 The facility is impressive.  I consistently noticed how clean and well-maintained the place was, as well as the politeness of the staff.  Also, getting in and riding all day is only $26/person, which is outstanding for the value delivered.  You get all of the rides, the midway, the carnie food availability, the atmosphere…and it's just right there, a quick drive to Chattanooga away.
We opened and closed the park today (12 to 8), and rarely waited for anything.  Highly recommended!