Pirate Radio came recommended by a friend, and I'm glad it did.  It's the sort of thing I'd have likely passed up on my own.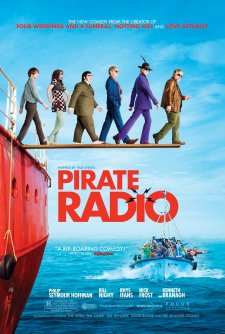 It's mostly a comedy, but there is enough drama and musical history to make it work on those wavelengths too.  It's loosely based on Radio Caroline, a British pirate radio ship in the mid- to late '60s that beamed a continuous stream of rock 'n' roll to tens of millions of listeners when "real" broadcasters weren't doing so.
The cast is absolutely enormous.  That aspect of it reminded me of Love Actually, so it didn't surprise me to learn that this film and that share a director.  Richard Curtis is skilled enough to implant personalities effectively, even with so many characters.  That's not easy with me—keeping track of folks is easily my biggest weakness as a movie watcher—so it's impressive when I don't have a problem.
I love that the humor is so stratified.  There is in-your-face physical comedy, and there are zingers, but there are also passing sight gags that reward those paying attention.  Listen for the subtly crass and the crassly subtle, too.
The music is expertly selected, and ladled on beyond all reason.  You'll head for your record collection, or your cable/XM radio, for the evening after watching it.
This was a Netflix selection for me.  Part of the reason I went to Netflix was as a screening tool to decide what went in my permanent library.  I'll be purchasing this one.  If you think you'll like it, you will.  (BamaDan, go order it right now.)
Bravo!
9/10
Similar Posts: