So one of the trailers for the to-be-released-imminently rebooted Star Trek movie starts with an adolescent Kirk sending a (presumably stolen) Corvette Sting Ray over a cliff, and very nearly following it.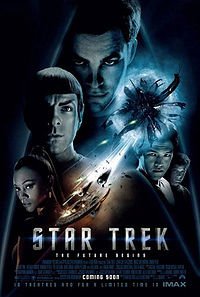 A colleague stopped by this afternoon to mostly-jokingly ask if I was planning to dress up in character to go to the movie.  I said no, but I did plan to see it, and I mentioned that I liked that trailer.
Instantly, he shared with me that in an episode of the original series, Kirk was flummoxed by a car with a clutch, so how could he have driven that Sting Ray as a child?  Heh.
Certainly scores, and possibly hundreds, of these inconsistencies are waiting to be discovered when the movie hits wide release late this week.  Star Trek must be the most studied and analyzed television show in history.  (Well, besides Blossom.)  Another is that the trailer shows the Enterprise under construction in a shipyard on Earth.  I'm a comparatively casual fan, and even I know Enterprise was built in orbit.
So if they're "blowing" something as fundamental as that, then I think there are probably many more "errors" to come.  A little advice to die-hards out there:  try to get lost in this one without picking it to pieces.  This is the cornerstone of the new franchise.  If you allow the nits to cost you your happiness, it's going to be a painful decade or so of sequels for you for no good reason.
Similar Posts: