I usually have a beard mostly for the same reason that I usually have a buzz cut: lower maintenance.
I haven't worked up the nerve to wax my neck. So even with a beard, I still have to shave two or three times a week to avoid the dreaded neckbeard. (There is no stylish neckbeard. Neckbeard bad, no neckbeard good. That's all the neckbeard guidance anyone needs.)
I used a Norelco electric shaver for years, and still have a nice one that I use mostly to finish off my head on those rare occasions that I go totally smooth on top. Thing is, as much as I tried to convince myself otherwise, and as many varied pre-shave rituals as I tried, it's just not as close as a blade. I could get a smooth shave from it, but I had to do it every day. I can do every other day with a blade.
I've been using a Gillette Mach 3. It does fine. The only complaint I have about it is the same one we all have: the cartridges are too expensive. One day last week a Harry's advertisement caught my eye, and I went to check it out.
Harry's wants to be your lifelong partner. They sell razors, cartridges, and shaving cream, with customizable subscription plans available for the cartridges and cream. The cartridges range from $1.56 to $2.00 each, depending on how big a package you buy. That's nearly 50% less than my current cartridges.
The "Truman" set includes a razor, three cartridges, and a tube of shaving cream for $15 shipped. (The free shipping threshold is only $10.) I ordered one. It came Friday:

One thing you notice quickly about Harry's is that they have put a great deal of effort into branding and design. Every part of the experience is carefully crafted. There is style. There is humor. There is a sustained drive for a unique personality in this market. Taking a peek in the box: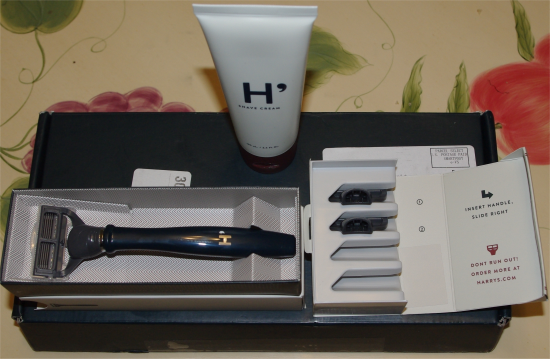 The handle has a bit of weight to it, and is finished pleasingly. Holding it for the first time, I did wonder whether a subtle molded texture would be a good idea to make it easier to grip with a wet hand, but this turned out to be only a minor concern.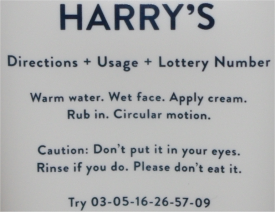 I'm hard to please on shaving cream. I've used Nivea for Sensitive Skin gel for decades, and had modest expectations of the Harry's cream.
And then it was a pleasant surprise. Its consistency and appearance are both similar to Noxzema, with a slight menthol fragrance. It handles well, from tube to fingertips to face. It is a bit thinner than my usual, but I had no problems with it.
So how was the shave?
It was impressive. The five-bladed Harry's cartridge glides noticeably more smoothly than my Mach 3, and the shave is quite close. One interesting thing about the design is that all of the flex in the head is provided by the body of the cartridge itself, as opposed to a dedicated mechanical pivot. This is a bit of a different feel, but I adjusted to it without a problem.
So I had a high-quality experience. Now I need to see about longevity. I'm accustomed to getting two or three great shaves, then three to five good shaves from a cartridge before I replace it. If the Harry's cartridge delivers on this front, I'm switching. My rating below assumes that it will. I'll come back and modify it if it doesn't.
Good work, Harry's! Pleased to be aboard.
9/10
(Please also see my review of Harry's foaming shave gel and after shave lotion.)
You might also like: