We were right out of the comics at our house this year, though one boy was Marvel and the other DC: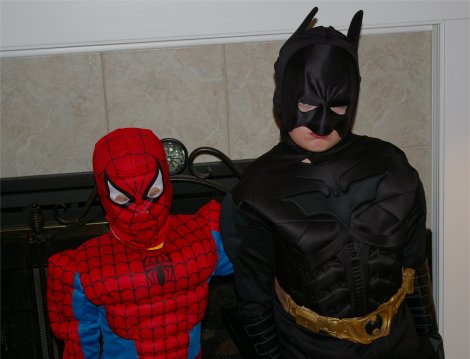 Next year I may start trying to steer Nathan toward something a little more creative.  These are cool costumes—Mommy knows where to find the good stuff, and they have substantial play value after Halloween is over—but they are exactly what Father Television tells us to want.  The best costume I ever had was a robot that Dad and I made essentially from scratch, with blinking lights and everything.  I might like us to head a bit more toward expressing ourselves in that way for 2009.
Our trick-or-treat traffic was way down this year, as in it might be off as much as 75%.  I don't know if that's because it's a Friday night or what, but it's an ominous sign.  Still, it's just one data point.  We'll see if the trend continues next year.
Really, I'm delighted that our children got to trick-or-treat at all.  I was sure the tradition would be dead by now, superseded by trunk-or-treat and walk-around-the-mall and so forth.  Even so, from talking to coworkers, though it lives, it's highly location-specific.  This is our ninth Halloween in this neighborhood, and this is the first year that hasn't been gangbusters (-5), which concerns me.  Like I said, check with me in '09.
Happy Halloween.