Sunday is always my favorite day of a three-day weekend.  It feels the freest.  It feels unusually open for things I've been meaning to get around to but haven't—not chores, but enjoyable things that take a little time.
I started setting my larger saltwater aquarium back up this afternoon.  I've kept tropical fish pretty much since I could walk, but I only first tried a marine environment a couple of years before Lea and I got married (so, about 1995).  I had good success with it.  My charges included a marine betta and a regal tang that lived for more than five years.  I kept a flame angel happy for a couple of years, but she really did well only as long as I kept buying her live rock to graze.  When I decided that was getting too expensive, I traded her in.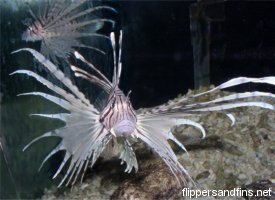 My star attraction was my lionfish.  As spectacular as lionfish are to look at, they're among the most undemanding of saltwater species to keep in aquaria.  The only real trick is to teach them to take dead food, which you can accomplish with a feeding stick and a little patience over a few days.  After that, make sure they get a decent meal a time or two a week, keep some water changed regularly, and enjoy the show.
I kept my last lionfish in a 29-gallon, which was on the small side.  This time I'm giving one the run of my 55-gallon.  I'll post some photos in six or seven weeks.