Of all of the professionals with whom I regularly and predictably interact, I think the most of my dental hygienist.  I'll call her Kate.  I saw her this morning.
I'm not afraid of going to the dentist, but even an uneventful visit isn't exactly pleasant.  Of course my top priority is a good cleaning, but a close second is that I don't want to be there any longer than I have to be.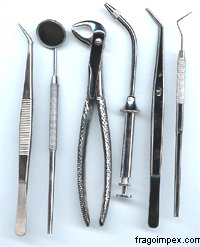 Kate is a wizard.  She does a marvelous job, she doesn't hurt me gratuitously, and she's very fast.  (Part of the reason for that is that we've done this enough together that most all of our communication is nonverbal, i.e. no explicit calls to open, close slightly, and the like are necessary.)  In fact, Kate has spoiled me to the point that there is a note on my chart that says if she isn't available when I'm scheduled to come in, then please call me for a reschedule.
Now I would gleefully take this high-quality dental service even delivered by a one-eyed warthog, but as it happens, Kate is also quite cute.  She has pretty red hair, a splash of freckles, and expressive eyes.  Odds are good she'd be the cutest woman you saw in a day, out and going about your business.
Superficially, there is plenty to like about this.  Life doesn't present many legitimate opportunities for a guy to be reclined in a comfortable chair with an extremely attractive woman pretty much right on top of him, complete with frequent body contact that is incidental, yet still occasionally substantial.  I mean, if anything's going to start a salacious movie in your head—the sort that runs in every man's head every day he's alive and postpubescent—then that is.
Or so it would seem.
Unfortunately, the environment destroys the fantasy before it starts.  I'm wearing a bib.  She's transformed into this weird thing wearing a mask and an eye shield, and she's coming at me with a steel hook.  The two gustatory sensations I'm experiencing are "gritty" and "sickly sweet."  To make it any unsexier, you pretty much have to add vomit or something.  It's a tragedy, really.  There is so much promise in the setup, and so little delivered.
I'm neither a connoisseur nor frequent consumer of pornographic films, but all it would take for me to yell "oh, that's so fake!" would be for one to start in a dentist's office.
You might also like: