I went to Sam's today.  Might have been my first time in there in 2007.  I met Melanie for Vietnamese, and I'm always hunting for a walk these days, and Sam's is right behind the shopping center containing Viet Huong.
It was marginally more pleasant than I remember.  (In my memory it was dingier, mainly.)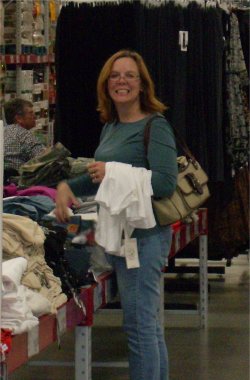 Melanie shopped for tops while I went for beer and searched in vain for size 12 of the innocuously-styled inexpensive name-brand sneaker they had for $25.  The "in vain" part is my experience approximately 90% of the time I look, so I usually buy as many pairs as they have when I do happen upon size 12 in stock.  (It's never a very dramatic number; my record is 3.)
And you know what they say:  big feet, ummm…big feet.
Anyway, Costco and Sam's always have a $25 Adidas, Nike, or Reebok sneaker—it turns over every couple of months—and that's the shoe I've worn for 99% of my waking life for the past five years.  This is nerdy and middle-agey, I suppose, though I dare say I'm outpacing my dad on cool points.  When he was my age he was fishing his casual shoes out of a gigantic bin marked "Canvas Sneakers – 99¢ each" at Eagle Discount Store on Highway 78 in Oxford.  It was a bin of individual shoes, which meant that if you found a left shoe in your size, you now had to find a right shoe in your size.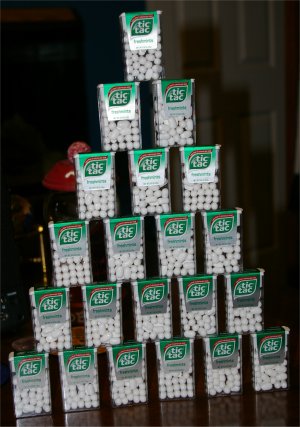 Aside:  Eagle got whacked by a tornado, along with the rest of the Winn-Dixie/Sky City shopping center, on December 3, 1983.  My dad's friend's son saved a little girl's life that evening by pulling her with him into a partitioned display that shielded them from the imploding plate glass windows.
My other big discovery at Sam's today was that they have the size of Tic-Tac container I like in bulk.  I don't consume breath mints at nearly the pace I did when I was smoking, but I still like to have them.  And I like for them to fit in the watch pocket of my jeans, because if I keep them there, then they're subjected to little enough motion that there is no annoying Tic-Tac rattle when I walk.  Dropped all the way into the regular jeans pocket?  Forget that shit.  Sounds like attack of the megaphoned rain-sticks everywhere I go.
I'm happy with the bulk purchase I made today, because it means I'm probably set for six to nine months.  But before I discovered these at Sam's, here was the deal.  Target only has the "Big Pack" in bulk (where "in bulk" means four of them).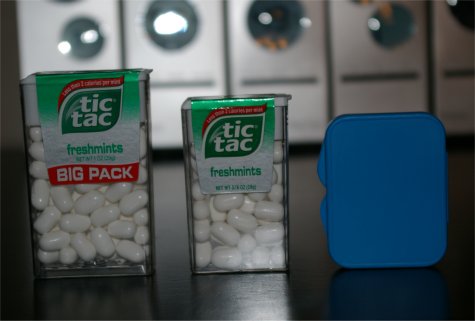 The Big Pack (left) is too big for me to carry both the mints and my flashlight in my watch pocket.  So I have to use a small pillbox (right).  But then that means I have to worry about keeping it refilled.
But now that I have two dozen of the Goldilocks size (center), I'm a happy guy.
What a blessing that I have the bandwidth for such trivial problems.
You might also like: