The extracurricular activity I enjoyed the most in high school was band, far and away. I played trombone and marched in the Oxford (Alabama) High School band my freshman and sophomore years, and it was a blast. We were adored at home, just a click under the football team as far as peer respect in the hallways, and greatly feared at marching competitions. We were good. And I still fondly remember my band director Mr. Barker as one of the people who had something significant to do with who I am today.
I don't think I've ever again been close to anyone who understood music like Mr. Barker did. His knowledge was so broad and deep, it was nearly unbelievable. Trombone was his first instrument, but he could also play piano, guitar, flute, clarinet, saxophone, mellophone, French horn, baritone, trumpet, tuba, and bells. If a single instrument in his 170-odd-piece band was as little as a quarter-tone flat, he could hear it. He could sing anybody's part from any song in our show off the top of his head.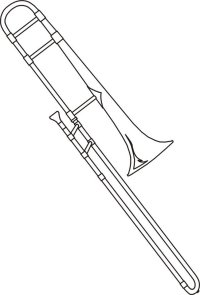 Mr. Barker also had two personalities. In the bandroom, and especially one-on-one, he was funny, warm, and nurturing. If you had a bad practice and wanted to talk to him about it, he wouldn't hear it. He'd clap you on the back, smile his big smile, and say "hey man, we're practicing again tomorrow! You'll get it!" But on the practice field, he was a drill sergeant. I remember mouthing off very mildly to him once during practice, and receiving what is still the greatest chewing out of my life–two inches from my face, pulsing veins, and absolutely as loud as the man could yell. I never made that mistake again.
I have to tell something on my friend Jenny B. (now Jenny P.) too, as long as I'm talking about Mr. Barker. Jenny was on the Golden Girls dance team, and coincidentally was also my coworker at UGS for almost five years. To me, she is a classic southern beauty: somewhat softspoken but appealingly accented, with a room-warming smile and an eternally happy soul. It's been 22 years or so since we were in band together, and she's aged perhaps 3.
Anyway, during band camp one year, we had to keep practicing this one part of the show over and over, because the drum section had to do this weird turning-while-backing-up thing, and they just couldn't get it. So everybody had to keep practicing the same four or five measures of the show while they tried to do it to Mr. Barker's satisfaction. (Did I mention it was about 128 degrees?)
So Mr. Barker stopped the show again and raised the megaphone to his mouth, presumably to bitch at the drummers some more. Instead he pointed toward the front and said "You know, I just want to take a minute to brag on Jenny B. here. We're out here in this heat and humidity, trying to get this show up to Oxford standards, and she's not scowled or rolled her eyes even once. Every time I look her way she has a smile on her face. We should all try to be more like Jenny B." Then he went back to business.
I told her that story from my perspective about three years ago, and she was deeply surprised I remembered it. She also told me she still thinks about that day sometimes when she's working out, pushing on a project at work, or whatever, and needs a boost.
Mr. Barker left Oxford not long after we moved, and I lost track of him. I still think of him from time to time and hope he's doing well.
You might also like: