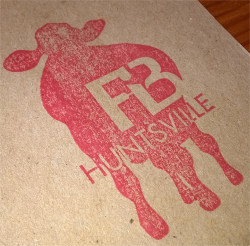 I had lunch with a few Rocket City Bloggers at Farm Burger today, over by Whole Foods on Bob Wallace. Farm Burger is a (surprise) burger restaurant that takes considerable care to source locally and sustainably wherever possible. It brings several gourmet burger toppings to the table, too. It's a chain, but a small one: Huntsville seems to be only the seventh location.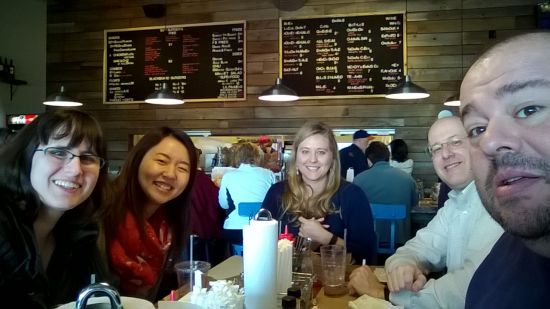 Farm Burger has been open less than two weeks, which is not long enough for a representative review. So these are just some thoughts on my experience, without a rating at the end.
(And, those who know me and my peeves well: yes, I actually went to an insanely popular fast casual restaurant at lunchtime right after it opened. Who knows when that will happen again?)
So, it's order, pay, but then they bring it to you and bus tables. So that's some mitigation of the model. There was a long line today, but it moved pretty efficiently. We didn't stand any longer than ten minutes. (We also learned that the bar stools are full service, so I'll definitely be remembering that.) Every Farm Burger employee with whom we interacted was pleasant, articulate, and intelligent.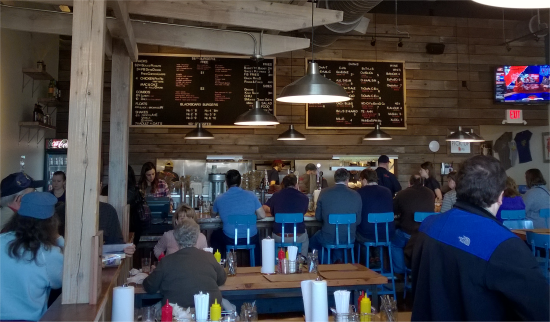 I had my indicator burger. For a burger place, the first one I always order is a cheeseburger with pickles, onions, lettuce, tomato, and mayonnaise. I prefer American cheese for this burger, but Farm Burger didn't offer it that I saw, so I went with cheddar.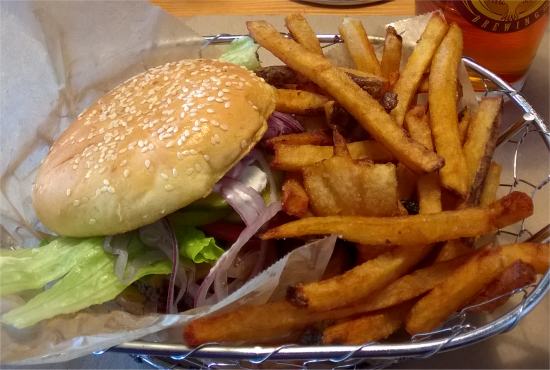 My lunch was quite tasty. All of the ingredients were fresh. I asked for medium, and it was medium. And the burger itself was special. There really is a world of difference in the way this grass-fed, hormone/antibiotic-free, humanely handled beef tastes. It was the kind of experience that makes me think "hey, maybe I need to spend money for beef like this from now on, and just have it less often." The fries are natural, cooked to just a bit brown, and delicious.
Farm Burger has several local beers on tap, so I was pleased to enjoy a Straight to Ale Monkeynaut IPA with my lunch. I did give up caffeine for Lent, remember. Heh.
My lunch was $16, and $6 of that was my beer. Farm Burger is eminently reasonable on price.
The only negative was the noise.
Farm Burger is LOUD. Like, bar loud. Bar with a band loud. The crowd is loud. The kitchen is loud. The music is loud. Conversation is possible, but it takes some sustained effort. I could not have stayed in there five minutes with a headache. This will definitely factor into when I visit in the future. I would like to return, but I'll be choosing slightly off-peak times at which to do so.
Now that I've successfully had my indicator burger, I'll look forward to trying some of Farm Burger's more esoteric toppings in the future. If you like burgers, this place deserves a visit.
Similar Posts: