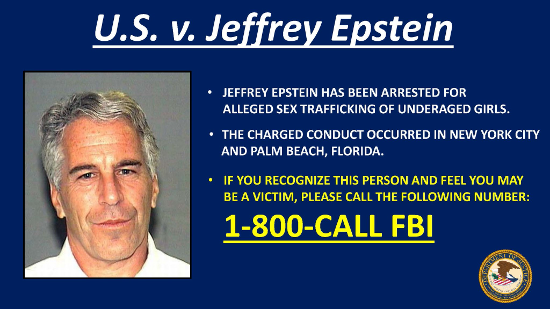 Convicted sex offender and human trafficker Jeffrey Epstein was arrested Saturday on a federal sex trafficking and conspiracy indictment. He is currently in jail, waiting for the resumption of his bail hearing on Thursday.
I have a few things to say about this, and I'll just make that my first point. I will join many others in saying that Epstein should absolutely be detained until trial. Look, the guy's ultra-rich and nailed to the wall, which means that if he's released, we'll never see him again. No bail for Epstein.
Secondly, I plead with you all to stop calling the alleged victims "young women." They are girls. That is the point. The deeds outlined in this indictment are especially heinous because these are children whose innocence has been stolen by a powerful, entitled, depraved man and those in his employ.
Third, heads should roll. If there is plausible documentation that shows a person in the same place at the same time as the trafficked girls, then name that person. Bill Clinton has issued a completely convincing statement in which he says yeah, he knew him and flew on the plane and stuff, but, you know, only to do the important godly humanitarian good work, not the sexual predation of children, which is of course deplorable.
Ah, Bill. Still finding a way not to inhale in 2019.
Fourth and most importantly, don't blow this. We've got another solid pass at this bastard, and though we've still got piles of defendant money and influence to mitigate, I think the needle has moved a bit on human trafficking perception and understanding. There's still too much "boys will be boys" nonsense out there to navigate—the fizzling Robert Kraft case is instructive—but I hope more people get it now.
Plus, did you read that indictment? I believe there is an orgy of evidence here.
(To go with your island, Mr. Epstein. Here's wishing you a truly miserable rest of your life.)
You might also like: