This is part of an ongoing series reviewing hot wings in the Huntsville area. Visit #HsvHotWings for a comprehensive linked list.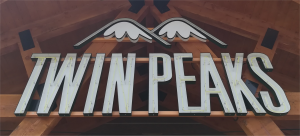 Twin Peaks is a mountain lodge-themed sports bar/"breastaurant." The Dallas-based chain has several dozen locations around the United States. We just got our first one in Huntsville, on the northeastern corner of the old Madison Square Mall property (where Macaroni Grill was).
I'm not a big fan of this sort of establishment. To Twin Peaks' credit, the experience was suitably reserved, as these things go. Jason and I had lunch there recently.
Twin Peaks has both traditional fried and smoked wings available, in numerous flavors. I went old school, selecting 12 traditional bone-in wings in Blazing, the hottest flavor. These were $15.25, with a slight additional charge for the fries. Celery accompanies, so I also got some bleu cheese. Our server Amanda was personable and prompt.
Quality: 6/10. My wings were evenly split between flats and drums, cooked properly, and served at an appealing temperature, with little excessive fat. But gee whiz, they're high. Being north of $1.25 apiece tanks the score here. There's a slight per-wing break if you go up to an 18-piece order.
Flavor: 6/10. This is a pretty safe scaffolding of traditional buffalo wing, with a bit of butter on the fade and no excessive saltiness. Nothing transcendent going on here, but eminently scarfable.
Heat: 5/10. There isn't much through about the third wing, and then a build begins, culminating in a little sweat by the bottom of the order. There may be a little habanero or other Capsicum chinense cultivar present here, but nothing super-hazardous. Probably a bit much for true lightweights, but the acclimated will have no issues.
The wings at Twin Peaks are a reasonable play, but they're a mediocre value unless the intangibles of a place like this are important to you. I will put down the smoked wings for a return visit sometime later in the year.
You might also like: