I'll tell you, sometimes being a fan is complicated.
I like to see Auburn do well when they aren't playing Alabama.  Both teams are ambassadors for my favorite state, they're both fine schools, and many fine people support each of them.
Alabama controlled its destiny twice this season.  All they had to do each time was not lose.  Then they did, each time.  Now that my team is going to neither the BCS title game nor the SEC title game, my latest hope is backing into the Sugar Bowl.  For that to happen I need Alabama and South Carolina to both beat Auburn, and Arkansas to beat LSU.  Then the 'Cocks are in for the SEC, and the conference winds up with four two-loss teams for an at-large bid.  In that scenario I like Alabama's odds for selection.
(Edited:  BamaDan points out that South Carolina would be in the Sugar Bowl if they won the SEC title.  So, back into "some other" BCS game.)
Yeah.  So.
(I've already been over the deranged nonsense concerning pulling against your own team because of the resulting consequences for one or both teams.)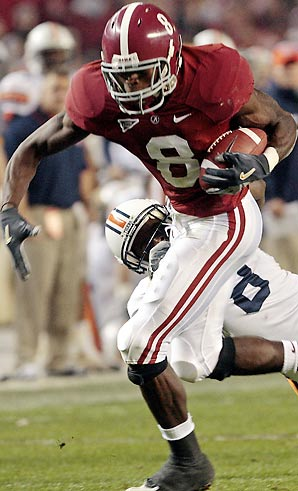 If Auburn beats us tomorrow, I'm all in with Auburn, all the way out.  If we beat Auburn tomorrow, then I'm in limbo, and I'm going to be for Arkansas against LSU on Saturday.  If LSU wins, I'm back in with Auburn.  If Arkansas wins, then I'm for South Carolina in the SEC title game.
Got that?  I know as many as three of you have been unable to sleep wondering who I'm going to be for when, so consider your dissonance vanquished.
Now, about this splendid little football game tomorrow…
When it comes to pre-game analysis, there aren't many original thoughts left, and I suspect I've read just about everything there is to read on the topic.  Here are the things that stick with me as Probably Important:
Hard to argue with 11-0, and I appreciate that.  But Auburn clearly hasn't been the same team on the road as it has been at home.  Two of those eleven were three-point wins over Kentucky and Mississippi State, away from the warm confines of Jordan-Hare.  Commonwealth Stadium and Scott Field are far cries from Bryant-Denny.
Auburn hasn't done well this year containing star wide receivers, and I expect Julio Jones to have a career game, as in double-digit receptions for multiple TDs.  Speaking of…
This is Julio's last game in Tuscaloosa, folks.  Ditto Mark Ingram.  Love to see them next year, but it isn't going to happen.  This is it for Greg McElroy, too.  How badly do you think these champions want to go out winners in Tuscaloosa?
This Alabama defense hasn't jelled quite as well as we all hoped it would, but it's also not nearly as porous as some of Auburn's earlier opponents.  They're not going to shut Cam Newton down, but significantly tempering his output is well within the D's capabilities.
This is unambiguously the highest-pressure game left for Alabama.  That's not true for Auburn.  The all-in factor favors the Tide.
Mistakes can swing a game at any time, and Alabama can't afford any.  They've been a good ball-handling team all year, and have also done well at not cutting their own throats with penalties, poor clock management, and the like.  I don't expect this to change tomorrow.
I think we'll see a fair number of points, particularly for two teams who have historically played some fine defense.  I think Alabama's ability to hold the ball longer will become the difference.  The only way to effectively deal with Newton will be to keep him on the sidelines, and get to him enough to thwart two or three drives in the course of the game.  I see Alabama with a 10- to 12-minute advantage in time of possession.  I see success reminiscent of the 2009 SEC title game, as well as the 1999 regular season Florida game.  I see…
Alabama 34, Auburn 23
You might also like: