The boys and I got up and knocked out the cards this morning. I'm not sure we've managed as early as December 20 in several years.
For such a connected and gadgeted-up guy, my Christmas card workflow is surprisingly primitive. We only send out 60 or so cards, and I can remember names and addresses for about half of them. For the others I have a hodgepodge of envelopes and the church directory, and I sit in the recliner with a lap desk and a pen and assembly-line with the boys, who take care of return addresses, stuffing, and stamping.
Every year I sit down and think "why don't I have this automated?" Then every year I also stop caring completely about an hour after it's done. So there would be the answer.
In other Christmas happenings, I am still basking in the afterglow of the wonderful party Jennifer and Stephenie of Rocket City Mom held at The Melting Pot on Thursday night for their regular contributors. Sam was the only other Rocket City Dad in attendance, so we both marinated in estrogen all night. (Absolutely no complaints. My wheelhouse, baby.)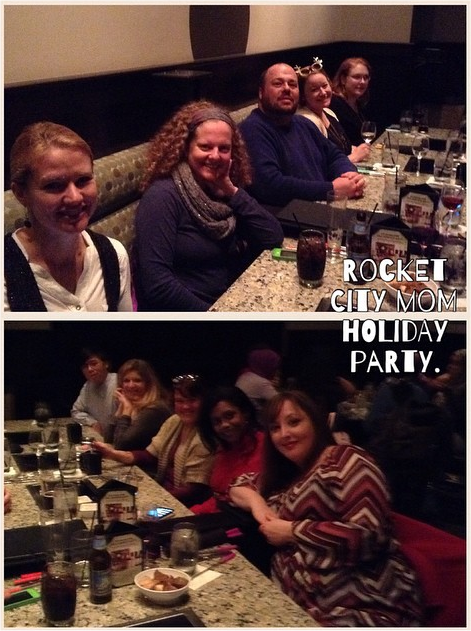 It was such a blast to be around so many funny and intelligent people (with truly large quantities of each trait). We're all so busy that it's tough to get any quantity of us together, so I'm glad this many of us could make it! Thank you, Jen and Steph!
I still need a couple of strong days at work next week, but mostly it feels like the home stretch now. Bowl games are helping. Hope you've either already arrived at, or are on final approach to, your Christmas happy place.