I like Carly Fiorina very much. I think she is a natural leader. I think she has a backbone. I like her personally, or at least I think I do. I think an honest assessment of her time at Hewlett-Packard is as much one of a principled executive making tough calls as it is anything else. I think she'd be a fine president. But she's not going to be president in 2016.
When she had two excellent debate performances and soared in the polls, I was excited, even as the pundits were saying nice job, but she doesn't have the money or the campaign infrastructure to sustain it.
I sent her campaign a little money. I sent her PAC a little money. She sent me a sticker.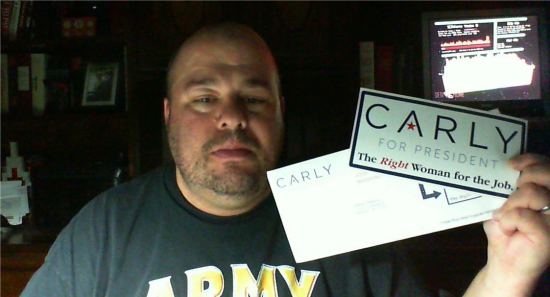 I never stuck it. I feel a little bad about that now. I could stick an Elizabeth Dole sticker in 1999, but not a Carly Fiorina sticker in 2015?
I would like to see Carly with a position of significance in a Trump, Cruz, or Rubio administration. I believe she will yet serve the country effectively.
Thank you, Carly. We appreciate your run.
(Pssssttt: Cruz/Fiorina sounds unstoppable.)