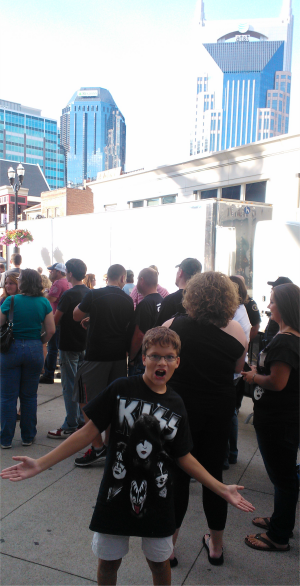 Wow, everybody was so old and fat at the Kiss/Def Leppard concert last night. I'm sure glad that hasn't happened to me.
Lea, the boys, and I traveled to Bridgestone Arena in Nashville last night to take in Kiss, Def Leppard, and Kobra and the Lotus. The boys saw Night Ranger at a festival last year, but this was their first full-on concert.
(Let me brag on Bridgestone Arena for just a sentence or two: world-class facility with world-class folks. Have no venue concerns if an event you want to see is at Bridgestone Arena.)
I'm going to write primarily about Kiss, because while we were all excited about Def Leppard too, Kiss was most of the point of going.
Def Leppard did a safe (Adrenalize-era and earlier) but extremely tight and energetic set, and we all dug it. Loved the opener choice of "Let It Go." Loved that "Bringin' on the Heartbreak" started acoustic and finished electric, and then was immediately followed by "Switch 625″ in its entirety. That was an awesome touch. There were six Hysteria cuts (all of the singles save "Women"); three Pyromania cuts (the ones you can name easily); the High 'n' Dry cuts I've already mentioned; "Let's Get Rocked"; and "Two Steps Behind." They sounded great, instrumentally and vocally.
Kobra and the Lotus was a blistering 30-minute sonic assault, including cuts from the new album High Priestess and a cover of Heart's "Barracuda." Gene Simmons discovered them, so that's most of why they're on the tour, but they're really way too heavy for a Kiss/Def Leppard crowd. Lead singer Kobra Paige sounds like a cross between Doro Pesch and Geoff Tate. If you like old-school metal as hard as granite, check Kobra and the Lotus out. They deliver.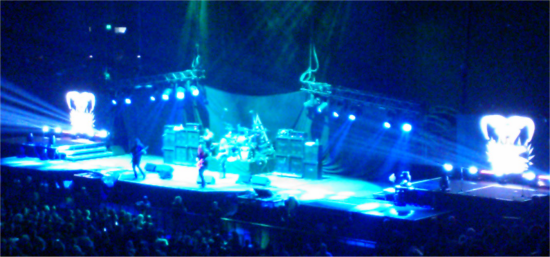 I so wanted to get my boys to a Kiss show while it was still mostly a Kiss show (and that can't possibly be much longer). For whatever reason, our few previous opportunities either fell through or were never viable to start with. They got their memories last night, and I know they'll cherish them as much as I have my very earliest memories of live Kiss. It was my first time to see Kiss since April 14, 2000. (Remember the "farewell" tour?) I said my goodbyes then, and it took having boys with whom I wanted to share the experience for me to want to see them again.
As ecstatic as I am for my boys, I'm sad to report that last night, I received full validation that I'm over the Kiss live experience.
It's no more complicated than I've just seen it all several times before. Paul singing "Love Gun" in the middle of the floor; Gene flying and singing "God of Thunder" from the ceiling; the bombs; the flash pots; and so forth. They've exhausted the paradigm. These are great tricks. They've been great tricks for a really, really long time. Do you have any others? (The non-makeup years' stage shows changed a lot more tour to tour.)
To be sure, the experience remains theatrically memorable for new initiates. Nathan and Aaron were blown away. I'm so glad for that.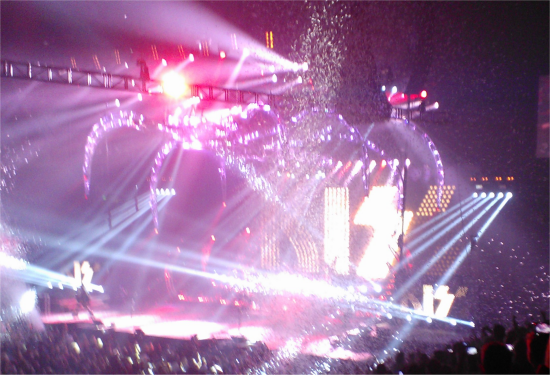 Now if Kiss toured like, say, Cheap Trick does, they'd go out in support of a new album and play half of it live. But they'll never do that. The Kiss live experience is just too tightly constrained. I loved both 2009′s Sonic Boom and 2012′s Monster, but Kiss sells new material very predictably. About 100,000 people like me buy the record the first week, and then another 100,000 or so eventually buy it in the years following. If Kiss came out and played five or six new songs, they would alienate too many people.
And indeed, there were no new songs last night. They did mix it up just a bit. It was a pleasure to hear "Hide Your Heart," which I hadn't heard Kiss do since 1990 (though Paul did it on his solo tour). "Psycho Circus" was a neat opener. But absent a lot of newer stuff, or a set list that might genuinely turn over 75% from night to night (a la Grateful Dead), there's nothing for me anymore, particularly for the money. The days of a concert ticket costing about the same as a fillup are long gone.
Aaron talked about feeling the heat from the flames on his face. Nathan ate it up when "Hotter Than Hell" made the set. (I thought that was pretty cool myself.) They both talked about it most of the way home, and then first thing this morning. Mission accomplished.
But I say, a little bit sadly but mostly just resignedly: it's over for me. I'm confident the Kiss live experience will never again cost little enough for me to consider it.