I'm not sure how Steel Panther didn't enter my consciousness any sooner than this afternoon. Even with my limited pop culture diet, it seems like I'd have encountered an over-the-top parody of '80s hair metal that also lays down some killer riffs.
Innuendo was a defining characteristic of much of the hard rock of my youth. An album could be about sex from the first song through the last, but it would just barely not mention it directly. Occasionally a band would, but usually only briefly, scurrying quickly back to the safer world of double entendres.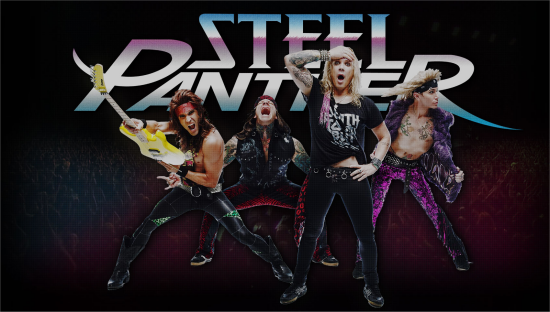 Steel Panther makes the music (and videos) of my youth, but with no restraint whatsoever. With all of the subtlety of a pole-dancing contest at morning Mass, this band cranks the vulgarity up to 11, then wrenches the knob around halfway again and rips it off. Boys, this is every childish, rude thought you ever had, brought to life with a disturbingly significant budget. It's live-action Beavis and Butt-Head on steroids, but with absolutely no concern with whether what they're doing will fly on TV.
I'm not linking to any of it directly. I take you to the front page of their site above, and that's as far as I'm going. You know how to find videos on the Internet. It's nearly impossible to overstate how gleefully, pervasively offensive some of their stuff is, and I'm not giving anyone the ability to say "yeah, I saw it on BoWilliams.com!" If you go looking for it, you've been warned. Don't bring your indignation back to me.
But if you're a GenX metalhead, the tackiest member of the circle you run with, or both, then make haste. Steel Panther is ridiculously entertaining.