(SPOILER ALERT. This post contains a major Halo 4 spoiler. If you haven't yet played the Halo 4 campaign and plan to, stop right here.)
Not much new in the latest leak on the new digital assistant in Windows Phone 8.1, though this is the first time I've seen a photo of actual UI. It's encouraging to see her named Cortana in said photo.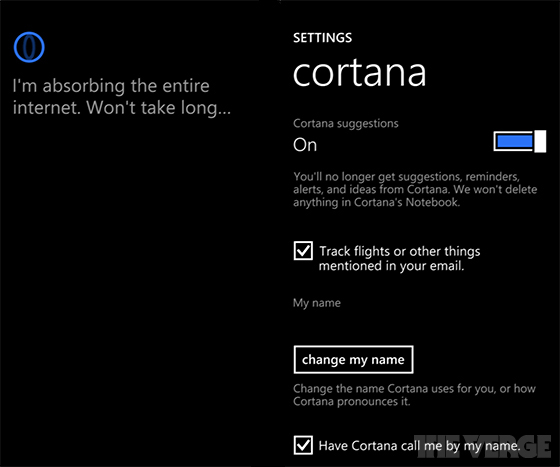 Then—sigh—the piece still hems and haws a bit on whether Cortana is the final name.
(For folks who don't know:  Cortana is the (female, sexy, nerdycool) sentient AI who assists you all the way through the original Halo trilogy, as well as Halo 4.) She's integral to the gameplay and a fully developed character. She's a strong bit of intellectual property who's been around since 2001, so we can accurately say a lot of gamers grew up with her.
And that's most of why it would be nuts for Microsoft to call its digital assistant anything but Cortana. There is a lot of upside with very little downside. Plus, (HALO 4 SPOILER! LAST CHANCE!)…
(spoiler space)
…Cortana dies at the end of Halo 4, so there won't be any awkwardness with her still existing in the Halo universe and her telling you where you can buy black shoelaces nearby.
Microsoft, she must be named Cortana. Jen Taylor must continue to voice her.
Don't screw this up.