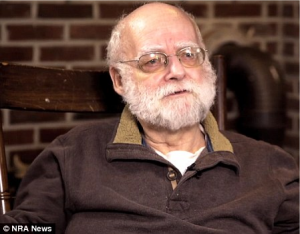 When 72-year-old Gordon Van Gilder was riding in the passenger seat of a car stopped by Cumberland County, New Jersey sheriff's deputies for a traffic violation, he hadn't an inkling he'd be charged with a felony and be facing quite possibly the rest of his life in prison.
Van Gilder had just purchased for his antiquities collection a centuries-old flintlock pistol, which was stored in the glove compartment. When he was bullied into a search of the vehicle (kids: never, ever without a warrant) and was asked if he had anything dangerous in the vehicle, he mentioned the flintlock pistol.
Understand, this is not a functional gun. It's doubtful it's been fired since the 19th century, and indeed, was not even capable of such (no flint, powder, or ball).
A superior on the radio said to let him go, so they did. The story should have been over. However, the next morning, four officers came to his home in multiple cruisers to arrest him. This highly dangerous 72-year-old retired English teacher was then led away in handcuffs and chained to a bench during his booking. (Incredibly, the pistol has been seized and sent away for "ballistics testing." Sorry, Mr. Van Gilder. Probably never see that again.) If he is convicted, he faces a minimum of three and a half years in prison. You can contribute to his legal defense fund here.
Cumberland County chief prosecutor Jennifer Webb-McRae has the authority to dismiss this clearly ludicrous case using prosecutorial discretion. So far, instead, her office has declined to comment. All of her contact information is here, if you'd like to politely inquire as to what she thinks she's doing.
Finally, it seems to me that Chris Christie could straighten this out quite satisfactorily. Governor, one of your constituents is being viciously and needlessly harassed. Hey man, are you running for president or not?