I've noted before that when a guy like me has a mohawk, the difference between spray-on color and natural color is the difference between ball coach dad and thug.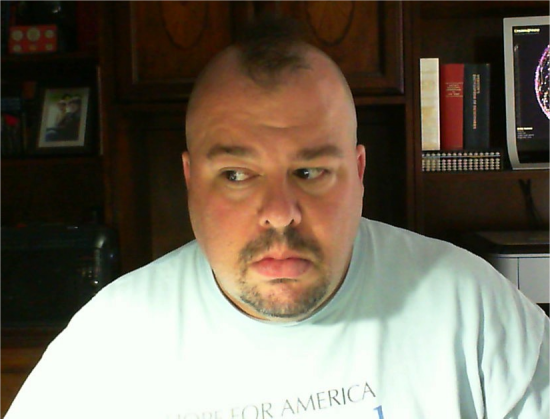 "You talkin' to me? Hey. You talkin' to me?"
I kept it to attend church this morning at my pastor's behest, though he thought I was coming with the color. (I left it off because there was still a lot of blue on my scalp after the initial cleanup last night, and I didn't want to risk going to work with such tomorrow.) There are a couple of older folks who vaguely disapprove—they did last year too—but it was/is mostly fine.
The trip to Publix for chili components was interesting. Folks were polite enough, but no one spent any longer than necessary interacting with me. (To be fair, I didn't have a cashier or bagger I recognized, which is a little unusual.) It was the first time I'd been anywhere but church with it. I think people were even more unnerved by it than when I had the chops. (I went to Publix with those too.)
I don't know what I'm going to do next year. I've kind of left myself nowhere to go on Crazy Hair Day.