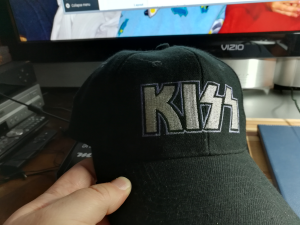 Kiss is attempting to trademark the phrase "The End of the Road." If successful, then only Kiss could use the phrase to describe a live musical performance. This has sparked speculation that Kiss will soon undertake a farewell tour.
But see, I already attended the farewell tour—on April 14, 2000. Sixth row center on the floor of the BJCC. Want to see my hat? I had turned 29 years old three days earlier. Lea and I had been married for less than three years. We didn't have children yet. My mother was still alive.
This has all gotten so damned stupid it's just barely believable.
While AC/DC and Van Halen compete mightily to see which legendary rock band will have the more undignified end, no one can touch the all-time champion Kiss. In addition to whatever "The End of the Road" might mean, Paul is again babbling about the band going on forever. So who knows what will happen? There are certainly no dignified outs left.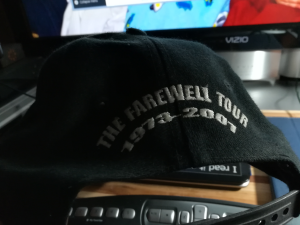 I said a heartfelt and genuine goodbye that spring night nearly 18 years ago. I said a considerably more jaded goodbye in 2014 in Nashville. And you know what? I'm still pleased that we got the boys their Kiss show.
But it's way past time for Kiss to fall silent.